13-Inch Retina MacBook Pro Once Again Shows Up in Benchmarks


A month ago Geekbench posted results of the benchmark tests with the presence of a "MacBookPro10,2" entry in database, suggesting that a 13-inch version of the Retina MacBook Pro is indeed in the works. As far as you know, the newest 15-inch Retina MacBook Pro carries a "MacBookPro10,1" identifier.
Following the original entry, a second MacBookPro10,2 has now appeared in the results database, with the data bearing very strong similarity to the original entry but with some differences that suggest this entry may also be legitimate. Like the machine that appeared first, the new machine runs a 2.9 GHz Core i7-3520M, the same processor found in the current high-end model of the non-Retina 13-inch MacBook Pro.

In addition, this new entry reflects a MacBook Pro with 8 GB of RAM, in line with what ships paired with the Core i7-3520M on the corresponding non-Retina model. The previous MacBookPro10,2 entry showed a machine with only 4 GB of RAM. Finally, the BIOS string for the new entry appears to show an updated date code of July 18, 2012, compared to the previous one registering as June 11, 2012.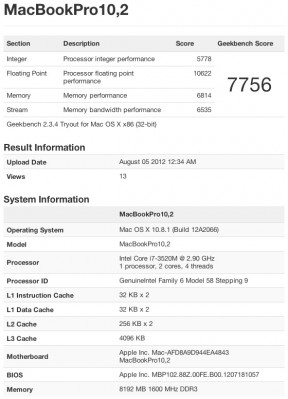 Leave a comment