18% of iPhone 6 and 6 Plus Users Would 'Definitely' Buy Apple Watch

According to the latest survey conducted by a finance company Credit Suisse, 18% of the current iPhone 6 and iPhone 6 Plus owners would "definitely" purchase the long-anticipated Apple Watch, which is expected to hit the store shelves this March. 11% of the questioned said they would "probably" buy the upcoming wearable device and another 18% informed they would "definitely not" purchase the smartwatch. What is interesting is that 27% of users either say they would "maybe" spend their money on the gadget, or "probably not".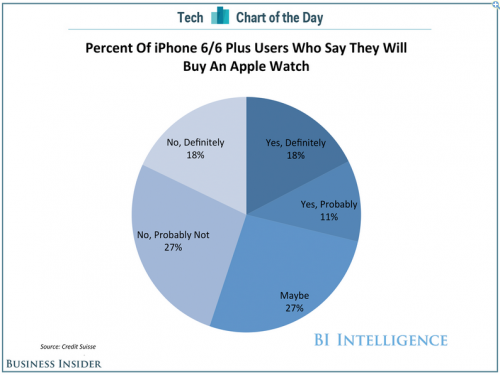 Analyst believe that in 2015, the guys from Cupertino may sell as many as 35 million Apple Watch units. And that is a good result for the first year in the entirely new product category.
Based on data from a Credit Suisse survey charted for us by BI Intelligence, 18% of people who bought either an iPhone 6 or an iPhone 6 Plus say they will "definitely" buy the Apple Watch. That would translate to roughly 35 million units.
Apple's smartwatch is expected to feature a small form factor and a number sensors capable of tracking user's physical activity. There will be three versions of the gadget with different characteristics and price tags.
[via Business Insider]

Leave a comment