A Closer Look at iBooks Author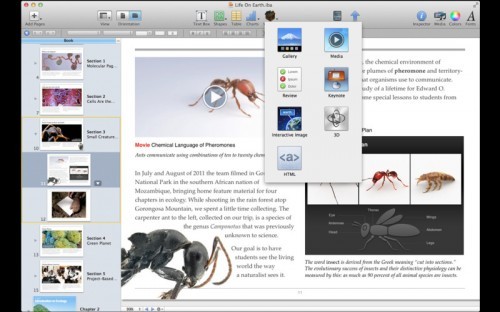 Yesterday Apple released an easy to use tool called iBooks Author, which allows anyone (publishers and users) to create interactive iBooks with text, video, images and more. iBook Author can export projects in a number of different formats, including iBook format, PDF and text.
The iBooks (version 2) format is an improved format created by Apple based on ePub 3. At present, this iBook format will only work with Apple's iOS devices. Even so, Apple has restricted sales of any iBook formatted documents coming from iBooks Author to the App Store.
The reason probably is that Apple may simply not want to feed content to competing bookstores such as Amazon or Google.
Second, it's about not wanting iBooks Author to serve as an authoring tool for competing bookstores like Amazon's or Google's. The output of iBooks Author is, as far as I can tell, HTML5 — pretty much ePub 3 with whatever nonstandard liberties Apple saw fit to take in order to achieve the results they wanted.
Moreover, it would be easy for Google or Amazon to make the iBook format compatible with any other devices.
As for the likelihood of publisher adoption, AllThingsD points out that it would be more profitable for publishers to start selling textbooks at the relatively low price point when their paper counterparts go for much higher. In such case, publishers expect to make up the sales on volume.

Leave a comment