Amazon Is Working On Its Own Smartphone To Compete With Android And iOS
Posted By maxim On July 6, 2012 @ 1:03 pm In All,rumors | No Comments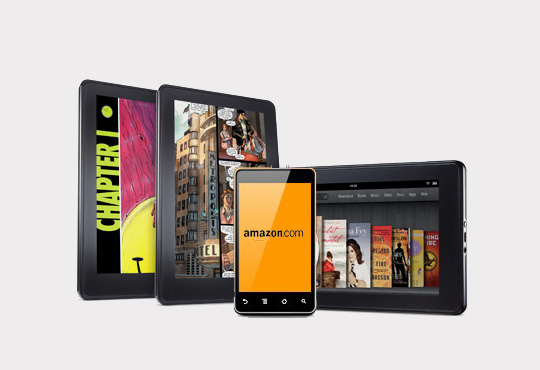 [1]
Today Bloomberg reported [2] that Amazon is developing its own smartphone [3] that will be able to compete with Android [4]-based smartphones and iPhone. Amazon is reportedly cooperating with Foxconn [5] to develop the smartphone, the same manufacturer that produces a number of Apple's handsets, including iPad and iPhone.
In order to support the launch of their smartphone, Amazon plans to build a portfolio of wireless-related patents, according to Bloomberg. Amazon has already released successful 7-inch Kindle Fire tablet that demonstrates the company's potential to develop a high-quality, customized Android-based operating system [6].
Amazon has its own distribution channels and content ecosystem, including cloud services allowing users to download media like books and movies, making their smartphone a serious competitor to Apple's iPhone and its media content stores such as iBookstore [7] and iTunes Store.
Earlier this week GigaOM reported [8] that Amazon has bought a 3D mapping company UpNext. Perhaps this startup company will help Amazon develop a smartphone that can compete with the 3D mapping capabilities in iOS 6 and Android.
---
Article printed from iPhoneRoot.com: http://iphoneroot.com
URL to article: http://iphoneroot.com/amazon-is-working-on-its-own-smartphone-to-compete-with-android-and-ios/
URLs in this post:
[1] Image: http://iphoneroot.com/wp-content/uploads/2012/07/amazon-kindle-fire-smartphone_technew.org_.jpg
[2] reported: http://www.bloomberg.com/news/2012-07-06/amazon-said-to-plan-smartphone-to-vie-with-apple.html
[3] smartphone: http://iphoneroot.com/tag/smartphone/
[4] Android: http://iphoneroot.com/tag/android/
[5] Foxconn: http://iphoneroot.com/tag/foxconn/
[6] operating system: http://iphoneroot.com/tag/operating-system/
[7] iBookstore: http://iphoneroot.com/tag/ibookstore/
[8] reported: http://gigaom.com/2012/07/02/exclusive-amazon-buys-3d-mapping-startup-upnext/
Click here to print.