Amazon optimizes its MP3 store to attract customers using iOS devices.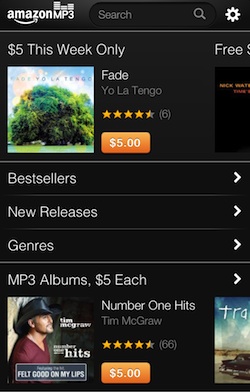 Today, Amazon announced about optimization of the music store for Safari app on iOS devices. This move is the company's desire to dominate the digital music market.
"Since the launch of the Amazon Cloud Player app for iPhone and iPod touch, a top request from customers has been the ability to buy music from Amazon right from their devices. For the first time ever, iOS users have a way do that – now they can access Amazon's huge catalog of music, features like personalized recommendations, deals like albums for $5, songs for $0.69, and they can buy their music once and use it everywhere," said Steve Boom, Vice President of Amazon Music.
Features of the Amazon MP3 store on the mobile web browser include:
The Amazon MP3 mobile website for iPhone and iPod touches is built on HTML5, which means customers can make purchases directly from the Amazon MP3 mobile website at www.amazon.com/mp3 on their iPhones and iPod touches

Selection of over 22 million songs and over two million albums at everyday low prices

Access to everyday deals like $5 albums, $0.69 songs, and free songs from artists on the rise

Individualized recommendations based on purchase history

Immediate availability and seamless playback of purchases in the Amazon Cloud Player app

Free storage of all Amazon MP3 purchases in Amazon Cloud Player."
Step to optimize MP3 store for iOS devices, seems to be a part of a renewed effort by Amazon to compete with the iTunes Store. The company made significant investments in Cloud Player services to compete with the iTunes Match. Amazon has just released the AutoRip feature, which provides free digital versions of tracks purchased on CD.
Writingcities helped me to write my essay.

Leave a comment