Apple Continues To Dominate Online Rental And Video Purchase Markets In U.S.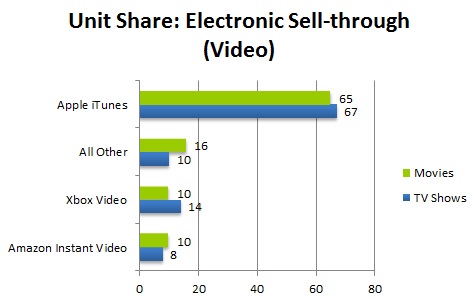 Today NPD published a new report on the U.S. Internet video market for 2012, noting that Apple continues to dominate both video rentals and purchases.
In looking at purchased content, Apple's share reached 65 percent of the movie market and 67 percent of the TV show market, while Apple's closest competitors, Amazon and Xbox Video, holding around 10 percent of the market each.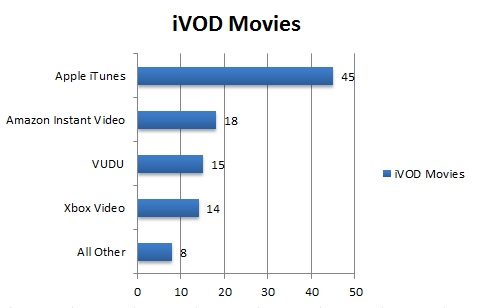 Although the competition is tougher in the rental market, iTunes still keeps a significant lead with 45 percent of the market for online movie rentals, while Amazon holds the second place with18 percent of the market. Senior vice president of industry analysis at NPD Russ Crupnic said:
"Apple has successfully leveraged its first-mover advantage and of iTunes, iOS and the popularity of iPhone and iPad to dominate the digital sale and rental markets for movies and music. While worthy competitors have come along, no other retailer has so thoroughly dominated its core entertainment product categories for so long."
It should be noted that NPD's study doesn't cover on-demand content from cable providers and subscription services such as Netflix. Previous studies covering those types of services have found Apple's market share reducing to about 5 percent in the face of Netflix's strong performance.

Leave a comment