Apple hires people from RIM's enterprise sales team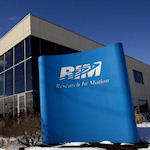 According to the recent Wall Street Journal report, at least 5 RIM's former employees made a switch to Apple in the last year and a half and thus updated information in their resumes. Here are their names:
RIM's Head Of Strategic Sales Geoff Perfect. Joined Apple in April 2009 and previously worked at RIM for 5 years.
RIM's Global Strategic Account Manager Paul Alvarez. Also worked 5 years for RIM and now sells iPads and iPhones to enterprise markets in Canada.
RIM's another Global Strategic Account Manager Steve Masrshall.
RIM's Senior Global Sales Manager Joe Bartlett.
RIM's Global Account Manager Peter Decker.
Last three joined Apple as iOS device sellers to businesses in 2010 after 4 years of holding their positions at RIM.
Though Apple confirmed this information, no more details were revealed. RIM officials, according to the report, "weren't immediately available for comment".
For years RIM had been known as the main major competitor for Apple on the market of smartphones, but this year the situation has been changed, as the number of iPhones sold in the last quarter exceeded the number of Blackberries. Moreover, at the latest conference call Steve Jobs confidently said there is no way RIM can be a serious rival for his company soon:
"I don't see them catching up with us in the foreseeable future. It will be a challenge for them to create a mobile software platform and convince developers to support a third platform."
Well, the strategy to attract employees from the rival companies will obviously help Apple to even faster bypass its competitors.
News sponsor: http://www.svitla.com/ios/

Leave a comment