Apple MacBook Air design patent could disrupt Ultrabook rollouts
Posted By Svetlana Osipova On June 9, 2012 @ 11:33 am In All,Hardware,Other,rumors | No Comments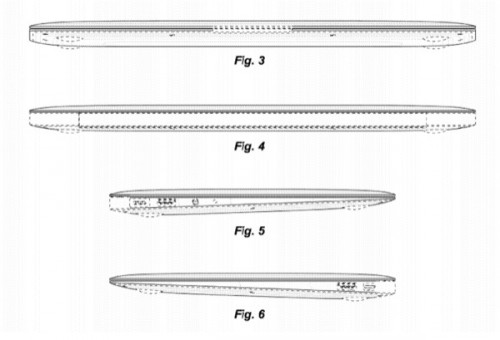 [1]
The U.S. Patent [2] and Trademark [3] Office [4] issued on Tuesday Apple Design [5] Patent No. D661,296 which covers the asymmetrical wedge-like or so-called "teardrop" shape first introduced in the company's MacBook [6] Air line of computers. Such patent may cause problems for Ultrabook manufactures, replicating the MacBook Air's look.
Despite the fact that the patent describes design details, it gives also schematic illustrations that provide an exhaustive look at how the MacBook Air's body differs from existing thin-and-light PCs.
The patent could be important if Apple decides to pursue legal action against lookalike laptops scheduled to roll out later this year. Some upcoming products from the Intel-backed "Ultrabook" initiative bears a striking resemblance to the MacBook Air, and if Apple follows with tradition these Windows-based laptops could face infringement suits. Intel claims that ultrabooks not only offer better performance than the iPad but represent a better value than current laptop offerings from Apple, a comment directed at the Mac-maker's thin-and-light.
---
Article printed from iPhoneRoot.com: http://iphoneroot.com
URL to article: http://iphoneroot.com/apple-macbook-air-design-patent-could-disrupt-ultrabook-rollouts/
URLs in this post:
[1] Image: http://iphoneroot.com/wp-content/uploads/2012/06/AirPatent.jpg
[2] Patent: http://iphoneroot.com/tag/patent/
[3] Trademark: http://iphoneroot.com/tag/trademark/
[4] Office: http://iphoneroot.com/tag/office/
[5] Design: http://iphoneroot.com/tag/design/
[6] MacBook: http://iphoneroot.com/tag/macbook/
Click here to print.