Apple Officially Releases Safari 7.0.3 to Users Worldwide

Apple has officially released Safari 7.0.3 to users worldwide. The release comes just about a week after the latest beta, which contained some minor enhancements. Apple says that the new version is recommended for all OS X Mavericks users as it "contains improvements to compatibility, stability, and security."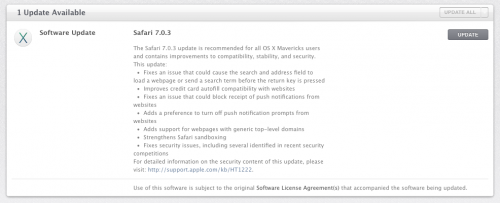 As noted by iClarified,
Apple has released Safari 7.0.3 which adds support for webpages with generic top-level domains, adds a preference to disable push notification prompts, strengthens sandboxing, and more.
One can download and install Safari 7.0.3 via Software Update section of the Apple menu on your Mac. For more information about the latest Safari version, visit Apple's official website.

Leave a comment