Apple predicted to sell up to 40M iPhones on China Mobile, China Telecom in 2013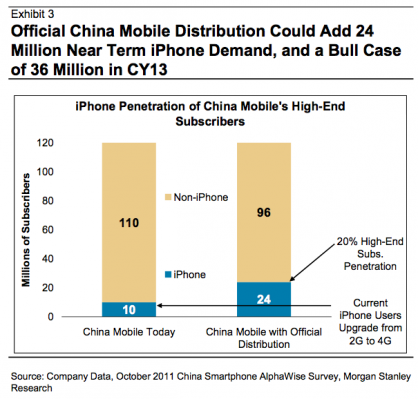 Analyst Katy Huberty from Investment bank Morgan Stanley believes Apple will partner up with both China Telecom and China Mobile "over the next year" to make its iPhone available on all three Chinese carriers. Such partnership could bring incremental sales of as many as 40 million units next calendar year that is only 10 percent of the 150 million "high-end Chinese subscribers".
China Mobile, the world's largest wireless carrier, holds the bulk of the country's high-end subscribers with an estimated 120 million customers who pay more than 100RMB ($16) a month. The final 10 percent of high-end subscribers are on China Telecom, the third-largest carrier in China. Huberty sees a base case of 26 million incremental iPhone sales in China during the 2013 calendar year with the addition of China Mobile and China Telecom. Her bull case suggests 40 million units for an increase of $10 in earnings per share.
Apple's sixth-generation iPhone is "likely to be compatible" with China Mobile's upcoming 4G TD-LTE network. Morgan Stanley expects the next-generation iPhone to arrive in the third quarter of 2012 and a China Mobile iPhone launch to occur in late 2012 or early 2013.
Huberty expects the iPhone to arrive on China Telecom sooner than China Mobile. The investment bank's analysis suggests that Apple could add between two to four million iPhones in sales from China Telecom next year.
The arrival of the iPhone 4S in China earlier this month attracted crushing crowds that resulted in the postponement of retail sales of the device at Apple's five official stores in the country. Apple's Chinese online store currently lists all models of the handset as sold out.

Apple posted 128 percent year-over-year growth in iPhone sales to reach an all-time high of 37 million units in the December quarter. In the days following Apple's announcement of its quarterly results, Wall Street analysts scrambled to raise their estimates for the second quarter of Apple's fiscal 2012.

Leave a comment