Apple Released Beta 3 Of iOS 6 And Rolled Out @icloud.com Email Addresses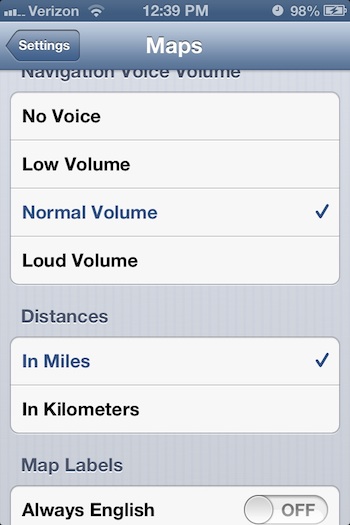 Today Apple released the beta 3 of iOS 6 to developers. The new mobile operation system is expected to launch "this fall", probably along with the new iPhone in the September-October timeframe.
The beta 3, which comes as Build 10A5355d, arrived three weeks after the release of previous version for developers of Build 10A5338d.
One of the notable additions observed so far is a new section in the Settings for Maps that allows users to control the volume of the turn-by-turn navigations voice, set units of distance ( kilometers or miles), set language for map labels (English or local language) and to set label sizes to either "large" or "normal". In the new beta, Apple also used glyphs for history, reading list and bookmarks instead of worded labels in Safari browser.
With the release of the Beta 3 of iOS 6, Apple has also revealed that it is starting process of transitioning from me.com email addresses to new icloud.com email addresses.
"icloud.com email addresses are now available for iCloud mail users. Users signing up for new Apple IDs, or enabling Mail on their iCloud account for the first time, will automatically receive an @icloud.com email address instead of a me.com email address. iCloud users with @me.com addresses that have been used with iOS 6 beta 3 will receive an @icloud.com email address that matches their @me.com address".
Apple shut down MobileMe web service in favor of iCloud on June 30, although users of MobileMe are able to move their accounts to iCloud service for a "limited time".

Leave a comment