Apple still expected to retire 17-inch MacBook Pro in 2012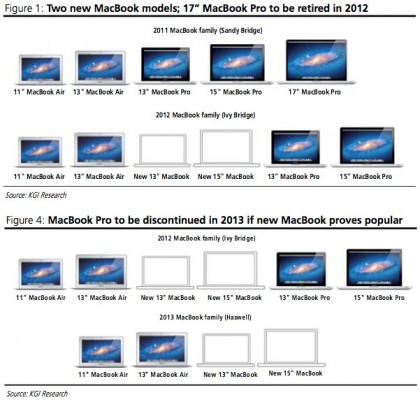 Analyst Ming-Chi Kuo with KGI, whose name and expectations we've already mentioned in the previous report, also believes that Apple will discontinue its 17-inch MacBook Pro this year, and might even ax the Pro lineup entirely in favor of the "new MacBook" in 2013. He expects that only the 13- and 15-inch MacBook Pros will receive updates.
The 17-inch MacBook Pro would be a logical choice for Apple to retire, as the premium professional notebook only accounted for 1.7 percent of the company's notebook sales in the first quarter of 2012. The most popular option, Kuo said, was the 13-inch MacBook Pro, which took 46.9 percent of sales, followed by an 18.1 percent share for the 13-inch MacBook Air, and 16 percent for the 15-inch MacBook Pro.
Kuo suggests that Apply may retire all MacBook Pros, replacing them with new 13- and 15-inch notebooks that would be named simply the "new MacBook." He also predicts if the new MacBook proves popular enough, Apple could reduce its notebook lineup to just four products: the 11- and 13-inch MacBook Airs, and the new 13- and 15-inch MacBooks. The new MacBook series is expected to be a merging of the MacBook Air and MacBook Pro lineups.

Leave a comment