Apple stock soars to all-time closing high after favorable verdict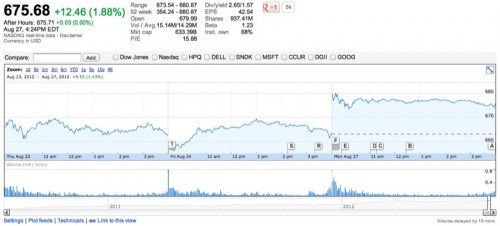 In the first day of trading since a favorable ruling in the company's high-stakes patent dispute against Samsung on Friday,  shares of Apple stock reached all-time closing highs on Monday. Apple's shares broke the former record of $668.87 to reach $675.68, up $12.86.
AAPL stock opened the day at $676.91 and hit a new intraday trading high of just over $680.87 thirty minutes later. Apple's leading market value was boosted over $12 billion to reach $633.39 billion, a contrast to Samsung shares which lost roughly the same amount as its stock tumbled some 7.5 percent on Monday. The stock surge comes as a direct result of Apple's significant win over Samsung in a patent trial decided on Friday.
As far as you remember, Samsung was found guilty of infringing a number of Apple design and utility patents and Apple was awarded nearly $1.05 billion in damages.

Leave a comment