Apple Testing an ARM (A5) Powered MacBook Air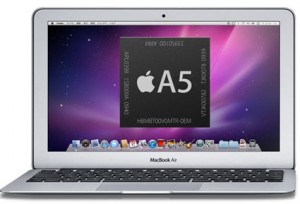 Japanese blog Macotakara  in its latest story claims that an A5-powered MacBook Air with Thunderbolt I/O is being tested in Apple's labs. The machine could be manufactured by Quanta Computer, the story has it. The article quotes a source who allegedly saw an early prototype:
According to this source who saw live A5 MacBook Air actually, this test machine performed better than expected. Though it's not clear which Mac OS X or iOS is pre-installed on this A5 MacBook Air, iOS seems to have difficulty to use features of Thunderbolt without Finder. And even if Mac OS X is installed, developer should spend time to support A5 on Universal Binary Applications. As considering these situation, this A5 MacBook Air seems to be made just for experiment.
This news comes weeks after another rumor claiming that Apple is planning on transitioning from Intel to ARM-based processors on their laptops in the not too distant future. Another major issue is that while ARM processors are more power efficient, they presently offer significantly lower performance than their Intel counterparts.

Leave a comment