Apple to Announce Q1 2014 Earnings January 27th

The company from Cupertino will soon announce its Q1 2014 earnings. This means Apple executives will officially unveil the results of the iPad Air and Retina iPad mini sales during the first quarter of their availability, apart from that, they will talk about iPhone 5s and iPhone 5c sales during the holiday season.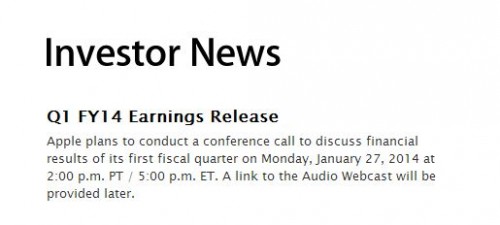 Tim Cook and Peter Oppenheimer may also drop a couple of vague hints on the future of the company as well as on this year's product launches.
According to the recently updated Apple's investor relations page,
Apple plans to conduct a conference call to discuss financial results of its first fiscal quarter on Monday, January 27, 2014 at 2:00 p.m. PT / 5:00 p.m. ET. A link to the Audio Webcast will be provided later.
The detailed information about Apple's earnings in Q1 2014 will be available on our website after January 27th.

Leave a comment