Apple to Stream Live Paul McCartney Concert to iTunes and Apple TV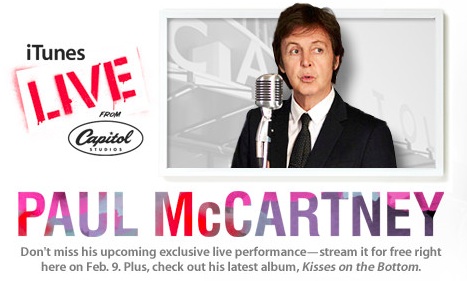 Apple today announced that it would support Paul McCartney's new album release. The company plans to steam a special free video of the live concert on Thursday, February 9 via iTunes on Mac and PC. The video will also be available directly on users' Apple TVs, signalling new efforts by Apple to increase the utility of its set-top box.
To celebrate the release of Paul McCartney's latest album — available now — we're streaming his exclusive performance at Capitol Studios on February 9 at 7 p.m. (PST). Watch the concert on iTunes on your computer, or stream it on your TV using your Apple TV — just choose iTunes Live from the Internet menu.
While users could redirect the video from that app to an Apple TV via AirPlay, Apple's addition of the iTunes Live experience directly on the Apple TV itself for this Paul McCartney concert demonstrates how the company can deliver exclusive content to users' televisions and perhaps ultimately an Apple-branded television set in an easily-accessible manner.
The Paul McCartney promotion is not Apple's first foray into live streaming of such events via iTunes. The company has hosted an annual concert festival in London for the past several years.

Leave a comment