Apple Told Reseller That New Mac Pro Will Arrive In Spring 2013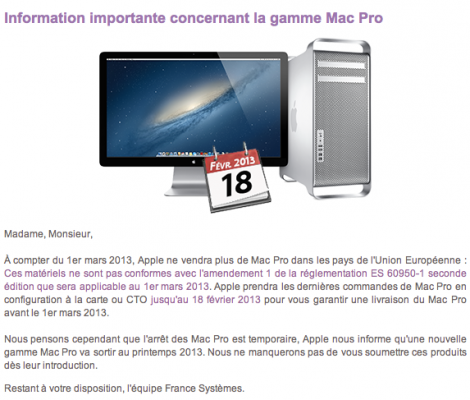 France Systems, Apple reseller in France, sent out newsletter to its customers informing them that Apple will halt Mac Pro sales on March 1st, 2013 due to new regulatory requirements in EU.
As reported by both MacGeneration and Mac4Ever, the reseller also points out in the newsletter that Apple told them a new Mac Pro will arrive in Spring of this year. Translation:
"However, we believe that the judgment of the Mac Pro is temporary, Apple informs us that new Mac Pro will be released in spring 2013".
In June, Apple spokesperson also confirmed that the company was working on new Mac Pro models for release in 2013.

Leave a comment