Apple's Developer Center is Coming Back Online

Apple's Developer Center is finally coming back online after being inaccessible for the last 8  days. According to MacRumors, several developers have already managed to enter the website.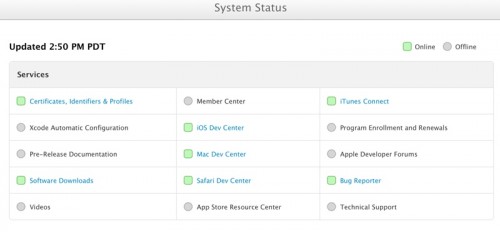 A few days ago Apple outlined a plan for restoring its dev site and it looks like the company does its best to follow this plan. A new status page shows that several systems, namely, Certificates, Identifiers & Profiles, Software Downloads, Safari Dev Center, iOS Dev Center, and Mac Dev Center are currently launched. As to the other, they're still offline.
Here's what the company from Cupertino says to its users:
Certificates, Identifiers & Profiles Now Available

We appreciate your patience as we work to bring our developer services back online. Certificates, Identifiers & Profiles, software downloads, and other developer services are now available. If you would like to know the availability of a particular system, visit our status page.

If your program membership expired or is set to expire during this downtime, it will be extended and your app will remain on the App Store. If you have any other concerns about your account, please contact us.

Thank you for bearing with us while we bring these important systems back online. We will continue to update you on our progress.
Looks like Apple has almost finished updating and restoring all the systems after the security breach, which occurred last week.

Leave a comment