Apple's fiscal Q1 2013 earnings conference call set for Jan. 23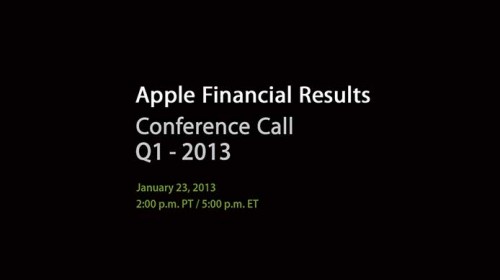 Apple announced on Wednesday that it will reveal results for the first fiscal quarter of 2013 on January 23 at 2:00 p.m. Pacific/5:00 p.m. Eastern. In the fourth quarter of 2012, Apple saw a 25 percent boost in profits thanks to strong sales of 44 million iDevices, including 26.9 million iPhones, for the three month period. Revenue for fiscal 2012 reached over $156 billion on sales of more than 200 million iOS devices, 18 million Macs, and 35 million iPods.
Apple forecast revenue of $52 billion and diluted earnings per share of about $11.75 for the quarter ending in December. The multitude of new product launches and product line refreshes, like the iPad mini, iPhone 5 and newly redesigned iMac line, are expected to drive down gross margins that could equate to a decline of 400 basis points for the three month period.

Leave a comment