Apple's Market Value is Larger Than That of Google

Apple shares are now worth $713.96 billion. This makes the Cupertino-based tech giant the largest company in the world in terms of market value. Strangely enough, Google search results show that Alphabet, its parent company, is the leader. This data is outdated, as the worth of Alphabet shares was larger only at some point in 2016. Currently, the company comes in the second place with market value of about $579.15 billion.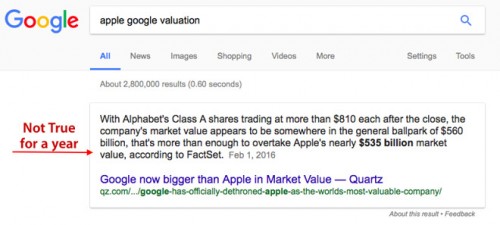 The strange situation was first spotted by AppleInsider. Here's what the journalists write:
If you search Google for "apple google valuation," the search giant's primary "featured snippet" answer is supplied from a year old Quartz blog entry by Melvin Backman, who portrayed the event (last February 1) as the "New Normal," rather than a passing moment of irrationality in the market. Apple passed up again Google within a couple weeks of that being written.
Apple shares are up due to many factors. The main one, however, is connected with customers' anticipation for the new iPhone 8, iPhone 7s, and iPhone 7s Plus. The handsets may become extremely popular.
[via AppleInsider]

Leave a comment