Google Has Released Blogger App For iPhone And iPod Touch
Posted By maxim On September 9, 2011 @ 6:31 pm In All,Software | No Comments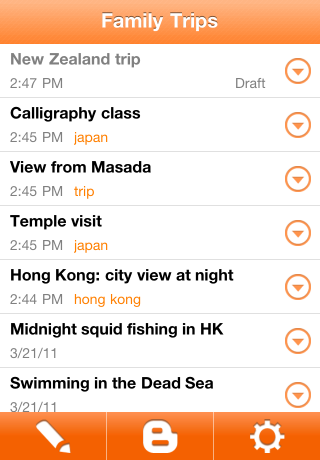 [1]
A blog-publishing service Bloogger has become quite popular after Google [2] bought it in 2003. However, the search company neglected the app for iOS until today, when this service debuted for iPhone [3] as a free download [4] app on the App Store [5]. Google states at the Blogger blog that this app allows users to write a blog post and save or publish it from their iOS devices.
"You can also open a blog post you've been working on from your computer and continue editing it while you're on-the-go. Your blog posts are automatically synced across devices, so you'll always have access to the latest version".
Also the app lets you add pictures to a blog posts by taking a new photo [6] or copying them from your camera roll. The app allows adding more than one blog or Blogger account, and browsing your published or saved posts. But it seems that the original release isn't optimized yet for blogging on the iPad [7] 9,7-inch screen.
---
Article printed from iPhoneRoot.com: http://iphoneroot.com
URL to article: http://iphoneroot.com/google-has-released-blogger-app-for-iphone-and-ipod-touch/
URLs in this post:
[1] Image: http://iphoneroot.com/wp-content/uploads/2011/09/blogger-for-ios-.png
[2] Google: http://iphoneroot.com/tag/google/
[3] iPhone: http://iphoneroot.com/tag/iphone/
[4] free download: http://itunes.apple.com/us/app/blogger/id459407288
[5] App Store: http://iphoneroot.com/tag/app-store/
[6] photo: http://iphoneroot.com/tag/photo/
[7] iPad: http://iphoneroot.com/tag/ipad/
Click here to print.