Hack the iPhone and get $10,000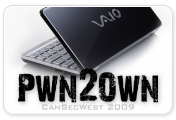 The annual Pwn2Own hacking contest is coming up next month. During the event competitors will be given the chance to win cash prizes.
The competition will start on March 24 at the CanSecWest security conference in Vancouver, British Columbia. This year, hackers will take on an iPhone 3GS, a Blackberry Bold 9700, an unspecified Nokia smartphone running the Symbian S60 platform and a Motorola, most likely a Droid, powered by Google 's Android. A successful hack must result in code execution with little to no user-interaction. Any exploited phone wins its attacker $10,000 in cash.

Leave a comment