IDG: 91% Of IT And Business Professionals Use Their iPads At Work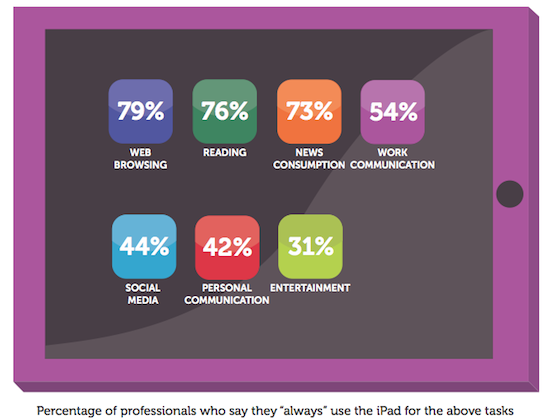 Research firm IDG published a new survey showing that iPad is very popular tool among business and IT professionals. According to the global survey, which is available for download, 91% of respondents "always" or "sometimes" use the iPad at work. Consumers and professionals both use the iPad for media consumption, and in the case of pros is chiefly work-related and text-based.
"IT and business professionals certainly use their iPads at home. But unlike most consumers, they also use their devices in a similarly intensive way at work".
About 79% of IT professionals "always" use the device on the move and 59% "always" or "sometimes" use the iPad in offline mode. IDG noted that road usage usually includes automobiles, trains, hotel lobbies, confrence halls, meeting rooms and coffee shops, even though only 40% of iPads supplied incorporate 3G connectivity.
Over three-quarters of pros use the device to browse the web, and 76% of polled workers said they "always" use the device to read content. Meanwhile, 54% of respondents use the iPad for work communication, and 73% opted for news reading. Only 31% said that they "always" use the device for entertainment and only 42% said they "always" use it for personal communication.
However, corporate iPads rarely replace notebooks. IDC notes:
"The iPad hasn't prompted the majority of IT and business profes- sionals to abandon any other device. Only 12% say that their iPad has "completely" replaced their laptop. Just 6% say it has supplanted their PC".
Nevertheless, Apple's tablet is taking over a number of tasks traditionally performed on notebooks. For example, 72% of respondents said that owning iPad they were using notebooks less often.
Apple brand, which is the 8th most valuable brand worldwide, enjoys solid support from corporations which use iPads: 83% said that they are loyal to Apple's device. That is a bad news for Android tablets that are gathering some momentum on the launch of Android 4.0 Ice Cream Sandwich OS, but not much in corporation segment. The great selection of native apps available for the iPad is also working in Apple's favour. Currently that number has reached almost 170.000 apps.

Leave a comment