iOS 4.1 Will Have Multiplayer Restrictions in Game Center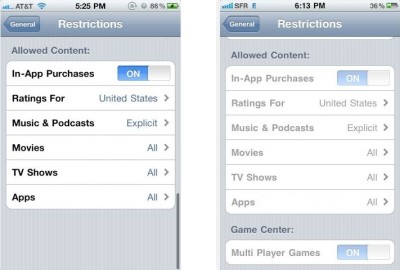 As you may know, iOS4 has new features that allow parents or even companies to limit an access to the system for their children or employees respectively.  Currently an access to Safari, YouTube, camera controls, location services and iTunes content including music, TV, movies, software and podcasts (that satisfy given rating threshold) may be blocked.
But the latest developer builds of iOS 4.1, which in turn must appear in a couple of months, include new restrictions related to the Game Center. The latter will allow players to find other players or teams for group play and track their game scores and in-game achievements, but new restrictions will make it possible for parents to prohibit their children from playing against any other user without supervision.
Screenshots that reveal these options are posted above.

Leave a comment