iOS 4.2 coming November 9th or 12th?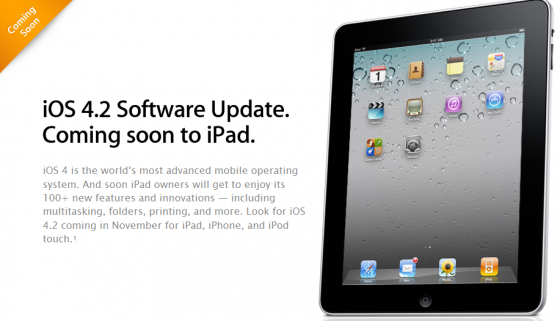 Some new rumors about a possible release of final version of iOS 4.2 have appeared today. Apple recently provided developers with the golden master seed of iOS 4.2 and this means that the public release is imminent. According to Inside-Handy.de the launch may be this Tuesday, November 9. Apparently the German website made contact with some Deutsche Telekom representatives who informed them of the November 9th release date.
However, another site iFun believes that we won't see anything until at least Friday. They have discovered, on Apple's servers, some new carrier update bundles that are due to hit this Friday, the 12th. These are new carrier settings which could possibly be fine-tuned for iDevices on iOS 4.2 and would logically be released at the same time.

iOS 4.2 will be the first version of iOS to unify the iPad, iPhone, and iPod touch software. The updated operating system brings all the iOS 4 iPhone/iPod touch features to the iPad including multitasking, folders, an enhanced mail application, and Game Center. iOS 4.2 also brings some new features to the iOS device lineup including AirPrint printing, the AirPlay video/audio/picture streaming service, a finding text on webpages function.

Leave a comment