iPad 3 Uses Retina Graphics From iPhone Apps
Posted By maxim On March 21, 2012 @ 2:43 am In All,Other | No Comments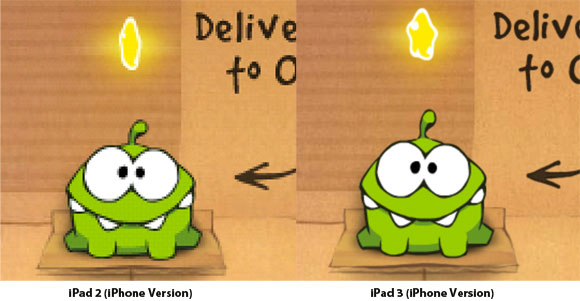 [1]
When the original iPad was released, there weren't many apps available for the device. So Apple allowed apps developed for the iPhone's smaller display to run on the iPad by using emulation. The apps could use only a fraction of the iPad's display. Alternatively, iPhone-specific apps could be run in a 2x mode, utilizing pixel doubling technique to fill the iPad's display. However, in 2x mode text and artwork look pixilated and blocky.
Since the release of the original iPad, both the iPod and iPhone has been upgraded to Retina displays. While Apple could utilize the Retina graphics from apps updated to support iPhone 4S [2] and iPhone 4 [3]'s 960x640 [4] display, the company has chosen not to. Instead, both iPad 1 and iPad 2 continue to pixel double the original iPhone's 480x320 [5] display. In fact, there is a jailbreak [6] app Retinapad [7] enabling the use of Retina graphics on first-generation iPad.
As TouchArcade reports [8], the new iPad now uses the Retina graphics of iPhone-specific apps in 1x and 2x mode, which results in a considerably improved visual experience.
A user on the TouchArcade forum said [9]:
"I just tested this with NBA Jam, which the iphone version looked like crap on my ipad 1, but looked great through retinapad when I had it jailbroken since it was tricked into loading the iphone 4's retina enable graphic assets. Now, on my brand spankin' new ipad third gen, it looks fantastic, without retinapad, just by enabling the 2X option at the bottom right of the screen".
In the image above, the graphics of the iPhone-native app Cut the Rope [10] have been compared on an iPad 3 (right) and iPad 2 (left). iPad 3 uses Retina graphics found in iPhone version of Cut the Rope, which results in a significantly sharper image. In fact, the iPhone version looks almost identical to the iPad-specific version of the game:
[11]
---
Article printed from iPhoneRoot.com: http://iphoneroot.com
URL to article: http://iphoneroot.com/ipad-3-uses-retina-graphics-from-iphone-apps/
URLs in this post:
[1] Image: http://iphoneroot.com/wp-content/uploads/2012/03/thumb.jpg
[2] iPhone 4S: http://iphoneroot.com/tag/iphone-4s/
[3] iPhone 4: http://iphoneroot.com/tag/iphone-4/
[4] 960x640: http://iphoneroot.com/tag/960x640/
[5] 480x320: http://iphoneroot.com/tag/480x320/
[6] jailbreak: http://iphoneroot.com/tag/jailbreak/
[7] Retinapad: http://www.macstories.net/ipad/retinapad-enables-retina-graphics-for-iphone-apps-in-2x-mode/
[8] reports: http://toucharcade.com/2012/03/20/the-new-ipad-uses-retina-assets-for-non-universal-games/
[9] said: http://forums.toucharcade.com/showthread.php?t=126281
[10] Cut the Rope: http://itunes.apple.com/us/app/cut-the-rope/id380293530?mt=8
[11] Image: http://iphoneroot.com/wp-content/uploads/2012/03/ipadversion.jpg
Click here to print.