iPhone OS 4.0 Is Available for Download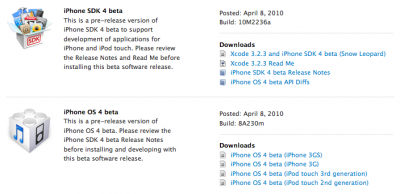 Now developers can download the beta version of iPhone OS 4.0 from the Apple Developer Connection. Both the SDK and firmware for every version of iPod Touch and iPhone are available.
Note: it is rumored that the iPhone OS 4.0 cannot be installed on iPod Touch 3G 32 GB version. Developers that tried to load the OS after its installing complain they got an error message:
"The iPod could not be restored. This device isn't eligible for the requested build".

Leave a comment