Apple Launches Web-Based iTunes Preview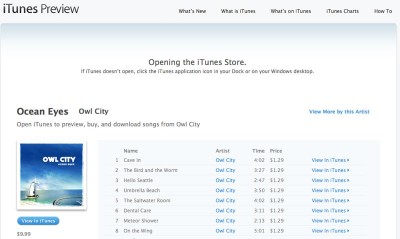 Apple has launched iTunes Preview, a feature that shows what music is available on iTunes from the convenience of your Web browser. iTunes Preview lets anyone browse through the entire iTunes catalog's worth of music, info, and user reviews for any region.
You can access iTunes Preview in one of two ways, either through iTunes Charts on Apple's Website or through any link generated from the iTunes Store's Copy Link feature. Unfortunately, it's still not possible to listen to music outside of iTunes.
For now, this feature only works with music. Hopefully someday it will be be extended to movies, TV shows and the AppStore.
[via]

Leave a comment