John Sullivan about DRM restrictions on iPad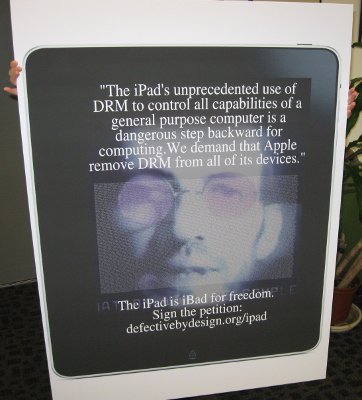 It is known, that iPad has a restrictive DRM shackles, which makes Apple the only available supplier of software for this device. So if you buy an iPad, you will have to download software only from the Apple's AppStore. Yes, there is a big possibility of jailbreaking the gadget within the first 48 hours after its shipping since it's based on the already jailbroken OS iPhone, but still this is not the best way of downloading applications for most of the people.
There are people, who disagree with a DRM-based strategy of software distribution. Some of them created an Anti-DRM group named Defective by Design. They told us they created an online petition that has been signed for 8,800 times since its inception 4 days ago. DbD has already sent off their first 5,000 signatures in the form of a giant postcard, which is in the photo above.
DbD's operations manager John Sullivan says their main target is to get Apple to remove DRM and DRM enforcement from all its media and software. This is especially valuable for the iPad designed to be widely used by non-technical people who might not be aware of DRM.
- What Apple is doing with software is quite different. This is a scary step … as Apple move towards this model in the future,
said Sullivan.

Leave a comment