Many Existing and New Users May Upgrade to iPhone 6 - Analyst

A large number of existing iPhone users may upgrade to iPhone 6 because of its larger display, claims analyst Brian Marshall of ISI Group. Apart from that, Apple's next-generation handset may lure new users - those people who previously used Android devices.
The analyst believes that the company from Cupertino will release two iPhone 6 models, one with 4.7-inch display and one with 5.5-inch display. Apple is expected to unveil both smartphones in the second half of 2014.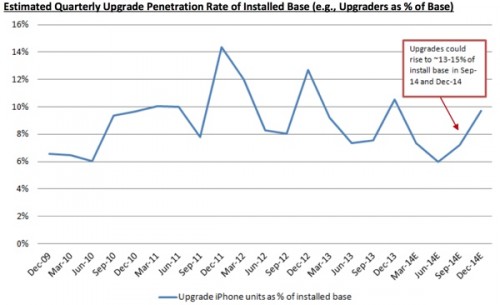 According to the estimates, only about 9% of customers upgraded to iPhone 5s or 5c. The reason for such poor results is quite obvious: in terms of design these gadgets look pretty much the same as iPhone 5.
As noted by MacRumors,
Peak quarters have seen upgrade rates of 12 to 14 percent, and ISI expects a similar upgrade rate during the second half of 2014 when the iPhone 6 is launched, resulting in a higher number of sales. An iPhone 6 with an increased screen size may also lure customers who have switched to Android from the iPhone because of the latter's lack of a large display.
Would you change your iPhone 5/5c/5s for iPhone 6 with a larger display? Leave your comments below.

Leave a comment