Microsoft Launches a $200 iPhone Trade-in Program

Microsoft has launched another trade-in program. This time the software company offers a $200 gift card for all those, who will bring their "gently used" iPhone 4s or iPhone 5 to one of the Microsoft's retail stores in the USA, Puerto Rico and Canada.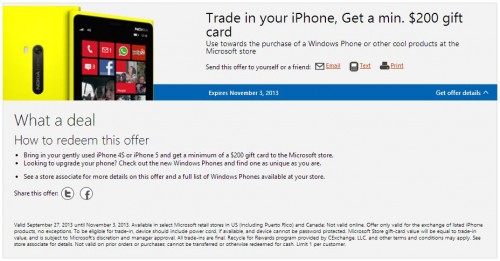 How to redeem this offer

Bring in your gently used iPhone 4S or iPhone 5 and get a minimum of a $200 gift card to the Microsoft store.

Looking to upgrade your phone? Check out the new Windows Phones and find one as unique as you are.

See a store associate for more details on this offer and a full list of Windows Phones available at your store.
The offer will be valid until November 3, so if you somehow got tired of your iPhone 4s or iPhone 5, you may get rid of it and purchase a Windows Phone 8 device instead. For more details visit Microsoft Store's official website.

Leave a comment