New 15-inch Retina MacBook Pro Specs Leak Online?

A new photo from China, which is said to be showing the specs for Apple's next-generation 15-inch MacBook Pro with Retina display has recently appeared on the Internet. What we can actually see is the configurations for the three laptop models with prices at 14.288, 18.688 and 23,688 yuan.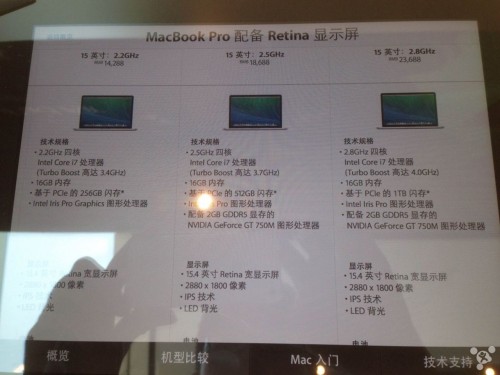 The cheapest model features an Intel Core i7 2.2 GHz processor and 16GB of RAM. The mid-tier version can boast of slightly faster Intel Core i7 2.5 GHz CPU and the same 16GB of RAM. As to the high-end and the most expensive MacBook Pro version, it is equipped with an Intel Core i7 2.8 GHz processor and the same 16GB of RAM. As a pleasant bonus, you will get a 1TB SSD and Iris Pro + NVIDIA GeForce GT 750M graphics.
There is no way to confirm the legitimacy of the photo, so I suggest that you should take it with a few pinches of salt. At the same time, today's leaked specs go in line with all the previous rumours suggesting that the guys from Cupertino are planning to refresh the lineup of its 13-inch and 15-inch "professional" laptops. I believe that very soon we'll see new Retina MacBooks. And what do you think?

Leave a comment