New Google Maps Version for iOS Adds Indoor Maps and iPad Support

New Google Maps version was released on July 16. Now popular app can boast of full iPad support, indoor maps and offline access.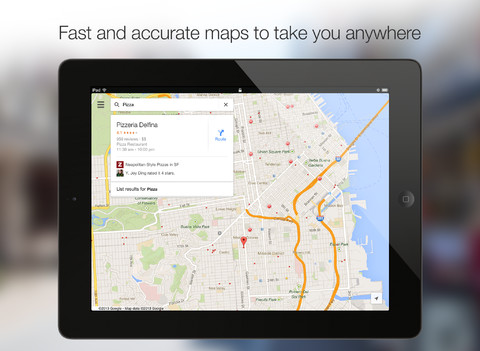 Here's the official description from the App Store:
Explore new places, discover local favorites, and navigate your world with Google Maps, the mapping service trusted by more than a billion users.
Apart from the feature you got used to, there's a bunch of new ones, namely:
New design for iPad
Enhanced navigation including live traffic updates and incident reports
Explore: A new way to browse and discover popular local places to eat, drink, shop, play and sleep
Simple 5-star ratings and reviews from friends, plus expert Zagat content
Great deals from your favorite brands with Google Offers
Indoor maps with walking directions for malls, transit stations, airports and more
The new app is compatible with iPhone 3GS, iPhone 4, iPhone 4S, iPhone 5, iPod touch (3rd generation), iPod touch (4th generation), iPod touch (5th generation) and iPad. It requires iOS 6.0 or later.
You can get Google Maps for free from the App Store.

Leave a comment