According to 9to5Mac, the iPhone 5s renders HD-videos two times faster, than the iPhone 5. Below you can see the clip, which shows both devices editing a 1080P video using iMovie. It proves that the iPhone 5s' 64-bit processor is incredibly fast.

Leave a comment

Apple Store in New York gathered the biggest crowd ever seen before this Friday. On the iPhone 5s and iPhone 5c launch day there were so many people willing to buy these devices, that the gold version of the Apple's new flagship was sold out in a flash!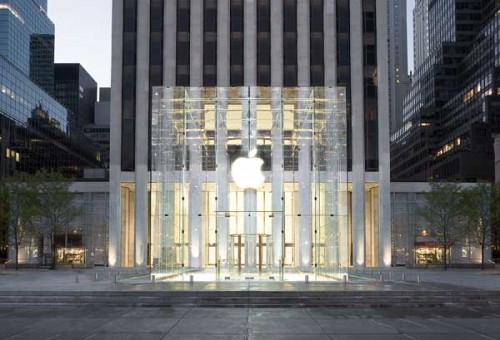 Leave a comment

The New York City Police Department is asking people to upgrade to iOS 7. This is all due to its improved security and, among the rest - due to the 'Activation Lock' feature.
According to some police officials, the seventh version of the Apple's mobile operating system is probably the most protected.
After months of pressure from a global coalition of elected officials and law enforcement agencies, we are pleased that Apple is set to release a new mobile operating system that includes a theft deterrent feature called Activation Lock. This is an important first step towards ending the global epidemic of smartphone theft.
Looks like the new iPhones are really worth purchasing devices.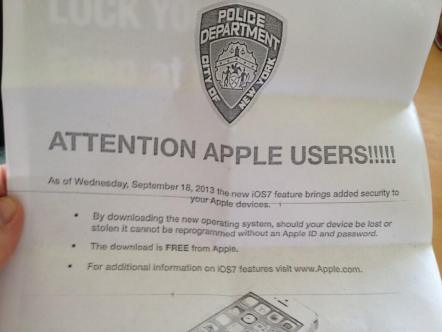 Leave a comment, read comments [4]

Tim Cook arrived at the Palo Alto University Apple Store on Friday morning, ahead of the iPhone 5s and iPhone 5c launch. According to people standing in a line, he greeted each person and then went on his way.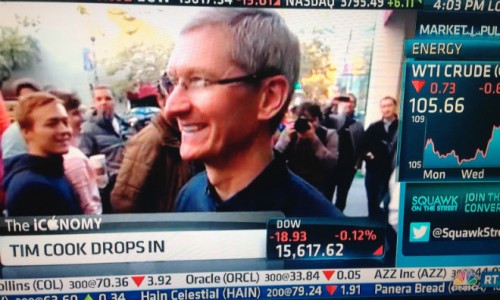 Leave a comment

iFixIt experts have teared apart the new Apple's plastic iPhone to show us what's inside of the long-expected gadget. This happened on Friday - the day, when the iPhone 5s and iPhone 5c were officially launched in the United States and several other countries.
The iPhone 5c can boast of a 1510mAh battery, Apple A6 processor and 1GB or RAM. All this makes it very similar to the iPhone 5. Still, it differs from it very much.
Although both new iPhones sport a similar construction and share some internals, don't get your hopes up too high for parts cross-compatibility, thanks to the differences between the display assemblies and the differently-sized FaceTime/speaker connectors.
Below you may watch the iFixIt roundup of the iPhone 5c teardown.

Leave a comment

iClarified has compared the boot speed of the iPhone 5s, iPhone 5c and iPhone 5. Below you may watch the video, which proves that the new flagship is the first to boot. Well, nothing unusual here. Then comes the plastic iPhone and right after him - the fifth-gen iPhone.
As I've mentioned before, the iPhone 5s with a brand new 64-bit processor was the fastest. It took only 20.5 seconds for it to boot. The boot speed of the iPhone 5c and iPhone 5 is 25.9 and 29.0 seconds respectively. You should note though, that the devices were restored to iOS 7 before the testing and contained no user data. So the actual boot speed may vary.
Here's the boot speed 'competition' video.

Leave a comment

Evernote for iOS has been updated recently to fit iOS 7. As the developers say, this is a completely redesigned app. And you know, I totally agree with them.

Leave a comment

Apple's still working with Samsung - Chipworks has confirmed that the A7 chip used in iPhone 5s is manufactured by the South-Korean company.
We have confirmed through early analysis that the device is fabricated at Samsung's Foundry and we will confirm process type and node later today as analysis continues. That being said, we suspect we will see Samsungs 28 nm Hi K metal Gate (HKMG) being used. We have observed this same process in the Samsung Exynos Application processor used in the Galaxy S IV. Our engineers will be deprocessing the Apple A7 as soon as they can to confirm this or to provide different information.
One of the Apple's main rivals is one of its main suppliers.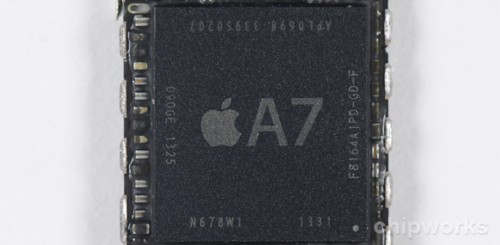 Leave a comment

Facebook has announced the release of updated app for iOS 7. The app is supposed to have a new look and it will be more user-friendly.
In the updated version it is easier to switch from News Feed to friend requests, messages or notifications by tapping  the bottom of the screen. Moreover, by doing that you will get access to your Timeline, groups, events and more.
With iOS 7 you will have the translucent bar at the top of the app change dynamically when you scroll through different photos and posts. Besides, you can also swipe from left to right to return to News Feed.
Check the video of the new app below.

Leave a comment

Tumblr app for iOS has been updated recently with push notifications for likes, reblogs, replies, new followers and the ability to monitor the latest activity on your blog.

Leave a comment

The gold iPhone 5s seems to be a device of high demand - according to the latest WSJ report, the company from Cupertino has asked its suppliers to increase the production of the new handset by one third. As you probably know, the first two batches of the Apple's new gold flagship were sold out after a few minutes after the launch of sales.
Apple Inc. has asked its suppliers to increase production of the gold-colored iPhone 5S by an additional one-third after seeing strong demand, people familiar with the situation said. It isn't clear whether there are currently supply constraints manufacturing the new iPhone.
Apple hasn't yet confirmed the rumor, anyway, it seems to be plausible.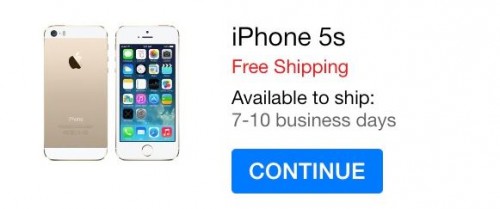 Leave a comment

Google Translate for iOS has been updated recently. Now you can translate various texts between more than 70 languages on the go and with no effort at all.

Leave a comment

Here is a huge gallery of screenshots from both iOS 6 and iOS 7. Let's compare these mobile operating systems:
Lock Screen:


Leave a comment, read comments [2]


Here's a look at the new Notification Center that comes with iOS 7.
Notification Center lets you know about new mail, missed calls, to-dos that need doing, and more. And a new feature called Today gives you a convenient summary of, well, today. One glance at your iPhone and you'll know if it's a certain someone's birthday, if you'll need an umbrella, or if traffic will slow down your commute.1 You'll even get a heads-up on tomorrow. You can access Notification Center from any screen, including the Lock screen. Just swipe down. And get up to speed.

Today view gives you a summary of what you need to know about for the day. And a peek at tomorrow.

The new All and Missed views let you see all your alerts or just those you haven't addressed in the last 24 hours.
Let's watch Notification Center demo video:

Leave a comment


Here's a look at the new Control Center.
Control Center gives you quick access to the controls and apps you always seem to need right this second. Just swipe up from any screen — including the Lock screen — to do things like switch to Airplane mode, turn Wi-Fi on or off, or adjust the brightness of your display. You can even shine a light on things with a new flashlight. Never has one swipe given you so much control.

Do what you need to do. Quick.
Turn on or off Airplane mode, Wi-Fi, Bluetooth, and Do Not Disturb. Lock your screen's orientation or adjust its brightness. Play, pause, or skip a song. Connect to AirPlay-enabled devices. And quickly access your flashlight, timer, calculator, and camera.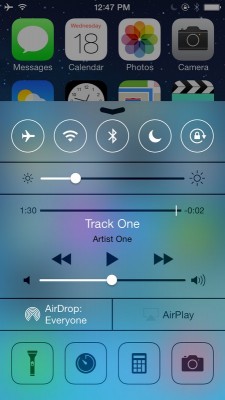 Let's watch the video demo:

Leave a comment