Couple photos of this crazy machine:

Leave a comment

Leave a comment


The Dictionary.com does just what you might expect it to, it delivers content from Dictionary.com and Thesaurus.com. There are 275,000 definitions and 80,000 synonyms. The app also features audio pronunciations, similarly spelled words and Dictionary.com's popular Word of the Day. Internet connection is required only for Word of the Day, audio pronunciations and similarly spelled words.
Features:
• Dictionary, Thesaurus and Word of the Day
• More than 275,000 definitions in the Dictionary
• More than 80,000 synonyms in the Thesaurus
• Alphabetical indexing
• Similarly spelled words
• Spelling and audio pronunciation
• Example sentences
• Non-standard uses
• Word origin and history
• Editable recent word look-up
* No Internet connection required for Dictionary and Thesaurus content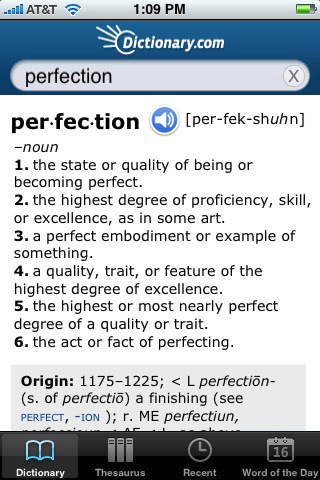 Avaliable via AppStore (link) for free.

Leave a comment


Equilibrio is a new game where you control a ball through various levels to reach the exit. It is a very funny game where we use physics to guide a ball using the accelerometer of the iPhone and iPod Touch. In the lower left is a kind of small map that shows the structure and level of play while we try to take the coins.
GAME FEATURES:
- 5 types of balls each with different properties and gameplay characteristics
- 60 levels with an increasing difficulty (more to come in future release)
- 3 play modes: conquest, ghost mode challenge, random level challenge
- 20 trophies to unlock, like you can find in Xbox Live Arcade games.
- Support of 6 languages (EN, FR, DE, SP, IT, NE)
- Up to 4 save profiles
- Highscore table
- Unique music themes
- Difficult game, definitely not for noobs!
The game is avaliable in AppStore (link) for $3.99.
Here's a video demonstration:

Leave a comment, read comments [1]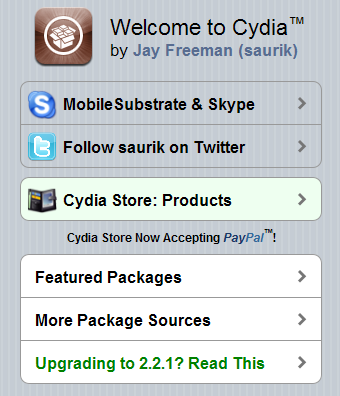 Saurik made available the "display" of Cydia through the browser of your computer. Just type the address http://cydia.saurik.com/. On this page we can view futured packages, read descriptions, see the "More Info", etc.
To track the new applications that are inserted or updated in Cydia you can use ModMyi or iAppCat.

Leave a comment

Leave a comment


Nearly one billion apps have been downloaded around the globe.
Apple celebrates this event: download an app and you'll automatically get the chance to win a $10,000 iTunes Gift Card, an iPod touch, a Time Capsule, and a MacBook Pro. Just go to the iTunes Store, browse the App Store, and download your best app yet.

Leave a comment

Here's an interesting video, which shows the possibility of transferring data via the audio port. As we can see, there was a small application that can communicate with this game, and simply moving a device, we can control the character.

Leave a comment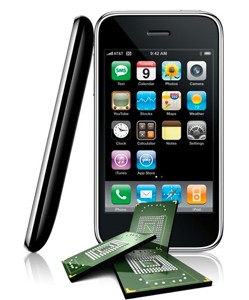 Apple has reportedly placed orders for 100 million 8Gb (8 gigabit, not gigabyte) NAND flash chips mostly with Samsung Electronics, which is likely to cause a supply shortage, according to sources at downstream suppliers. That's twice the size of the order reported last year. The tiny memory chips are then recombined during manufacturing into the larger 16GB, 32GB, and so on capacities we expect to find in our handheld consumer electronics. New iPhone this year! Any doubts?
via engadget, digitimes

Leave a comment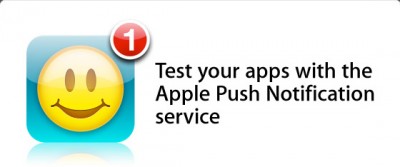 Apple has just let developers know that they can start testing the upcoming Push Notification Service starting today:
Start testing your applications using the Apple Push Notification service today. Log in to the iPhone Dev Center and review the Apple Push Notification Programming Guide and Getting Started video. Team Agents can log in to the iPhone Developer Program Portal and proceed to the App ID section to create the components necessary to enable and test applications using the Apple Push Notification service.

Leave a comment

Leave a comment

Leave a comment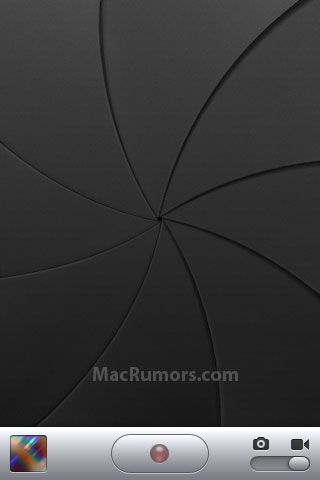 It looks like the iPhone will record video this summer. Buried in the latest iPhone 3.0 beta is this screenshot of what's obviously the iPhone's still dormant video recording interface. Besides the honking red record button in the center, there's a toggle to switch between the still camera and video recording. Inside the configuration files where the screen was discovered were mentions of an "auto-focus camera," "magnetometer" (digital compass), and "Voice Control."
via gizmodo

Leave a comment

Gmail and Google Calendar have been updated for the iPhone:

Leave a comment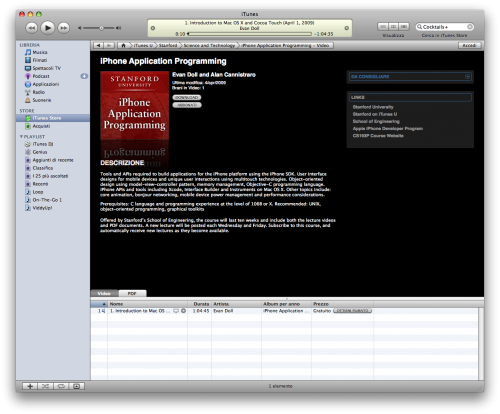 The University of Stanford created an iPhone related course for iTunes U. The first lesson will help developers to create iPhone applications, almost from scratch.
The course is obviously in English, and videos are posted about 2 days after the actual recording. The quality is very good, and we can even download the slides in PDF. To get started, just click here. And... yes, it is free.

Leave a comment