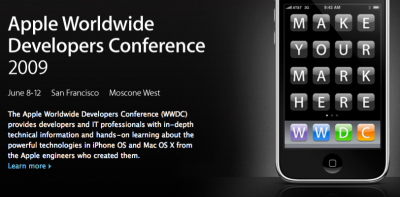 Apple has announced the date for it's 2009 World Wide Developer Conference: June 8-12.
Last year, Steve Jobs' Keynote at WWDC gave us an update on iPhone 2.0, the introduction of MobileMe, and the unveiling of the iPhone 3G. What will they have for us this year? More iPhone 3.0 no doubt. iPhone gen 3? Snow Leopard? Mac Netbook?
As usual, WWDC will be held at the Moscone Center West in San Francisco, and will again consist of iPhone, Mac, and IT streams. Apple says:
iPhone OS is the world's most advanced mobile operating system, offering you a revolutionary platform for designing innovative mobile applications. Learn every aspect of iPhone development — from the powerful tools and frameworks to enhancing your application with the unique features of iPhone OS.
via theiphoneblog

Leave a comment

Vibrate Toggle is a handy switch that allows you to enable or disable via SBSettings the vibration of the iPhone when it is set to Silent. It is avaliable in Cydia.

Leave a comment

The original Wolfenstein is now available for free for the iPhone. You need to jailbreak your phone to get in on the fun. The game is truly a classic. This is a first-person shooter in which we should govern our character among many doors and endless mazes. The controls are "fairly" good, based solely on the touch screen.
Wolf3D avaliable from Cydia, repository ZodTTD.

Leave a comment

CyDelete, is a very small utility (only 10kb) that gives makes it possible to remove (uninstall) applications from Cydia just like those from AppStore. Everything that we have to do is click an icon on the springboard, so that they begin to vibrate. Than just hit (X) on application and confirm the deletion.
CyDelete is available in category Tweaks in Cydia.

Leave a comment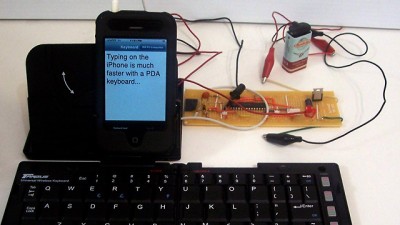 Perceptive Development developed a hardware and software solution that allows infrared keyboards to be used for typing on the iPhone, using less than $20 of electronics. They have managed to get an external keyboard working via a custom connection built for the headphone jack. Headphone jack in/out hardware is one of the few interfaces that's open in the official SDK.
They have built a microcontroller that converts input from an external Targus IR keyboard into a format the iPhone's headphone jack can understand, which is then fed to a terminal app that doesn't require jailbreak. Nice!

Leave a comment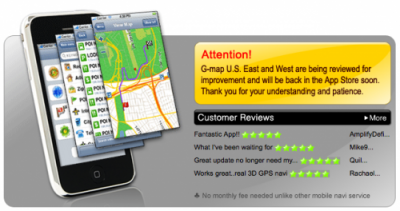 In reality G-Map was a true offline browser, and the last update had also added the voice features combined with turn-by-turn directions. All these additions surprised us, because they violated the contract terms of SDK. About 10 days ago, we wrote that G-Map app had suddenly been removed from App Store.
The developers, on the official site, continue to exhibit the same banner which claim G-Map will be back in AppStore, and that the application was removed only because of a major upgrade. This is a very strange this thing, because usually you update applications directly, without any need to first be removed.

Leave a comment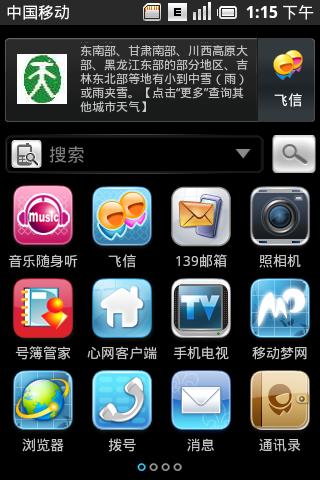 Chinese bloggers have posted photos of Lenovo oPhone's operating system. To me it looks like an iPhone:

Leave a comment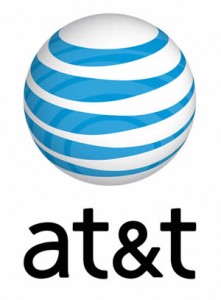 Here are some new rumors about future iPhone from AT&T staff:
New iPhone announcement around mid-June
New iPhone will be faster and have a more seamless experience unmatched by any device (could be just talking about 3.0, but we think it's also a new iPhone)
U-Verse iPhone application; will allow control of your home DVR (play, pause, rewind, etc.)
AT&T is said to be working with Apple to create a unified product with an unparalleled experience across all their products and services.
Apple's 3.0 software should tell us where the iPhone platform is going… uh, k?
They said customers shouldn't need to choose from AT&T's high-end devices because of features, they should choose based on preferences. The gap in capability should be filled with the new iPhone. Ok, bets on slide out QWERTY, autofocus camera, video sharing, blah blah?
Seems like the higher speed HSDPA (7.2Mbps) is being hinted at too which should confirm the earlier rumors of the new Infineon chipset.
The $99 3G netbook will start selling this summer, and the first one won't be a Windows OS.
via boygeniusreport

Leave a comment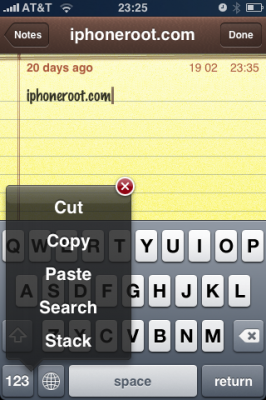 Clippy is an iPhone addition from Cydia for copy/paste functionality. It was updated to version 0.97-2. The main bug that was fixes is a crash of different applications such as Notes, Safari, Mail and others where the animation was drawn. New version also added a language pack, improved the animation of the menu, full support for selecting editable text in web views, themes support and a lot more.
Avaliable via Cydia for jailbreaked iPhones.
Full changelog for 0.97 updates:

Leave a comment, read comments [1]

A popular application for WordPress blog is updated to version 1.2:
What's new:
Landscape mode with the extra wide keyboard
Link creation help
Support for editing and creating Pages
Comment moderation
Asynchronous publishing
Photo resizing options
Requires WordPress 2.7 or higher or a WordPress.com site
Avaliable for free via AppStore (link).

Leave a comment

XROAD's G-Map, the iPhone's well-reviewed first turn-by-turn navigation app, has been pulled from the App Store. As we know, the iPhone 3.0 OS revealed yesterday has baked in turn-by-turn for navigation apps, so the timing is notable.

Leave a comment, read comments [1]

Leave a comment

Leave a comment

Leave a comment


News from DevTeam:
iPhone 3.0 OS is jailbreakable on all devices. It's just those using 3G yellowsn0w that have to show some restraint and wait for PwnageTool to create a custom IPSW that avoids the baseband update. If you are using yellowsn0w, do not update or restore to iPhone 3.0 firmware.  You will lose yellowsn0w and find yourself unable to revert the baseband to get it back.

Leave a comment