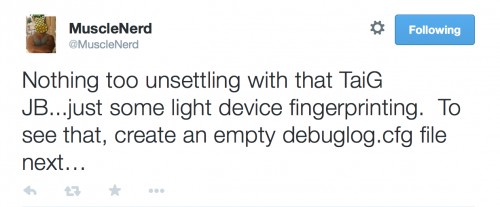 MuscleNerd, a respected hacker in the jailbreak community, has confirmed via twitter that the TaiG iOS 8.1.1 jailbreak is safe.
Nothing too unsettling with that TaiG JB...just some light device fingerprinting. To see that, create an empty debuglog.cfg file next…
to the exe file. From then on, when you run the tool it'll log the urls accessed in a log/.log file.

Leave a comment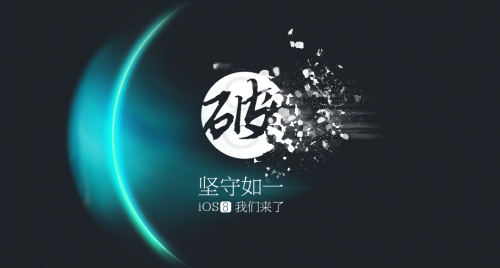 An untethered jailbreak of iOS 8.1.1 and iOS 8.2 beta firmwares has just been released by TaiG. It also works for iOS 8.0 and iOS 8.1.
MuscleNerd confirmed the jailbreak over Twitter; however, he warns that you should probably wait a couple days before attempting.
Looks like TaiG just released a jailbreak for 8.1.1 (and 8.0,8.1,8.2beta). Best to wait a few days just in case
TaiG was part of the controversial iOS 7 jailbreak from the Evad3rs. The jaibreak included the TaiG 'app store' for cracked apps by default in China. Following an outcry from the community the evad3rs responded by updating their jailbreak tool to remove TaiG.

Leave a comment

President Obama has recently signed the E-Label Act, which would allow Apple and other companies not to place Federal Communications Commission (FCC) certification stamps on back panels of smartphones and tablets. Instead of doing so, vendors would get the right to include the information about the certification into their software.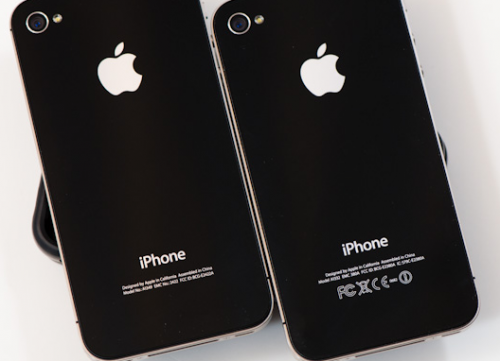 Leave a comment

Apple has recently updated its Apple Watch marketing page with three new menus, animations and product images. The site now gives users more information about the wearable device, its components and design.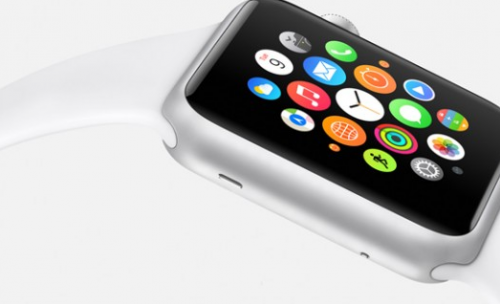 Leave a comment

About a week after the release of Microsoft's ad mocking Siri and a couple of days after the release of two iPhone 6 and iPhone 6 Plus ads voiced by Jimmy Fallon and Justin Timberlake, the guys from Cupertino have decided to make another commercial available for public. The short video, which can be found below, tells us about one of new iMessage features introduced in iOS 8 and is called "Voice Text". I bet you've already guessed what particular feature the ad highlights.

Leave a comment

According to the latest report from China Economic Weekly, Foxconn, one of Apple's largest suppliers, is currently gearing up to start the production of sapphire for next generations of company's mobile devices. Asian tech giant has reportedly got the final approval for building a large sapphire display manufacturing facility in Zhengzhou, China. The plant will be situated close to the facility, where the iPhone 6 units are currently assembled.

Leave a comment

According to the latest reports from supply chain insiders, Apple has recently decided to make Samsung one of its major hardware suppliers. I'm now talking not only about the chips for next generations of iPhones and iPads. As noted by BusinessKorea, the guys from Cupertino plan to use Samsung as a primary components manufacturer for the long-anticipated Apple Watch as well. This indicates that Apple will soon once again become extremely dependent on its market rival from South Korea.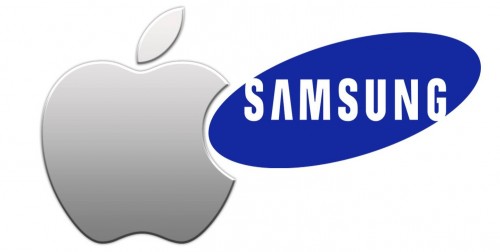 Leave a comment

As you've probably heard, Sony Pictures has recently refused to film Aaron Sorkin's long-anticipated movie about Apple co-founder and former CEO Steve Jobs. Don't begin to panic as it doesn't mean the work on the biopic has stopped. According to The Wrap, after about a week after Sony's sudden decision, another well-known company, namely, Universal Studios agreed to pick up the movie. Moreover, as noted by the same insiders, Michael Fassbender has been also approved to star as Jobs.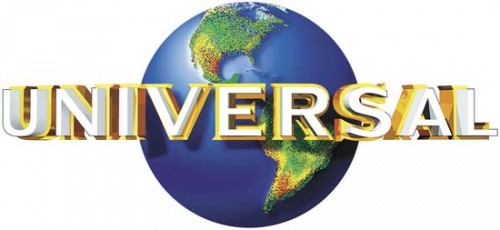 Leave a comment

Apple's market capitalization has recently hit another record-breaking point of $700 billion. This is a new milestone in the history of the company, which indicates that the stock value continues to grow making Apple one of the most successful, financially stable and richest firms of the entire world. Such a result has positive impact on Apple's status on the market as well as in the eyes of stock holders and rivals.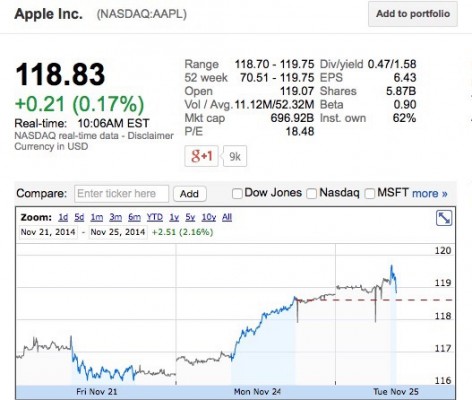 Leave a comment

According to the latest report from a research firm called International Data Corporation (IDC), world's tablet market is expected to see a noticeable decline this year. In particular, the experts claim the year-over-year growth will be equal to only 7.2%, down from 52.5% in the last year. In general, world's tablet sales in 2014 will account for 235.7 units shipped.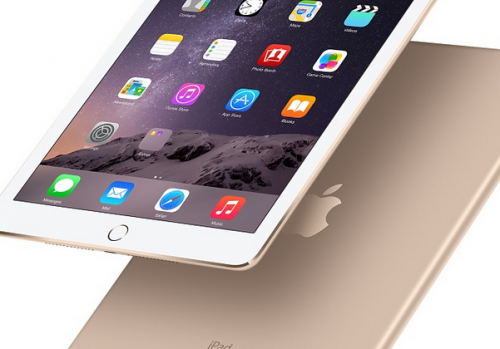 Leave a comment

Following the release of Microsoft's ad mocking Apple and its virtual assistant called Siri, the guys from Cupertino published two own ads, which tell us about the recently-released iPhone 6 and iPhone 6 Plus as well as about their gaming capabilities and the ability to use both handsets to make calls from iOS and OS X devices. Like all the previous iPhone 6 and 6 Plus ads, these are voiced by Jimmy Fallon and Justin Timberlake, who talk about the advantages of using Apple's handsets. Both commercials are available below, take a look.

Leave a comment

According to the results of the latest research conducted by a marketing firm called Fiksu, the release of both iPhone 6 and iPhone 6 Plus caused a substantial increase in app downloads in October. As noted in the latest report prepared by company's analysts, the number of downloads managed to reach an enormous figure of 7.8 million per day among the top 200 free iOS apps. I must admit, it is a truly impressive result for Apple's virtual marketplace.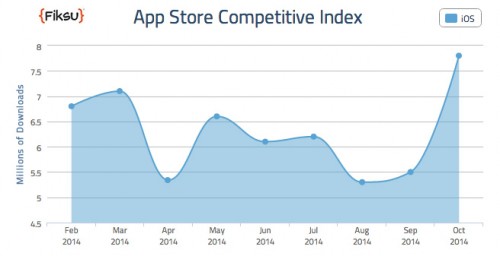 Leave a comment

As you probably know, Apple is one of those companies that show interest in the development of virtual reality technologies. Over the past few years, the guys from Cupertino have filed a number of patents related to all kinds of virtual reality gear. Apple is an inventor of the 3-D viewing headset similar to the Oculus Rift, moreover, it possesses other technical documentation required for creation of virtual reality devices. But why haven't we seen any gadget from Apple so far? Let's find out.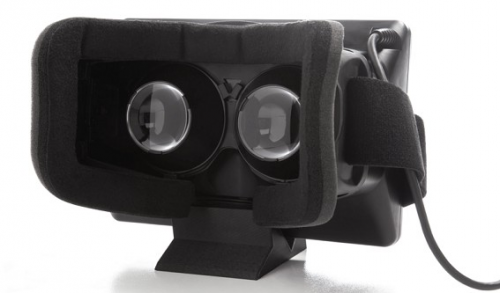 Leave a comment

As you already know, Apple is an active member of the (Product) RED initiative, which raises money for fighting AIDS. Every year, the guys from Cupertino create a special (Product) RED lineup of devices and apps, sell them and give all the money they get to a special charity fund.

Leave a comment

According to the latest announcement made by Apple, the company will support the (Product) RED initiative this year. The guys from Cupertino promised to send a part of money they get from sales on Friday, November 28th and Monday, December 1st to the Global Fund to fight AIDS, Tuberculosis and Malaria. Moreover, they have already updated the App Store with a new (RED) category of apps. This category features 25 apps connected with the charity initiative. The money from selling these apps will be sent directly to the aforementioned fund.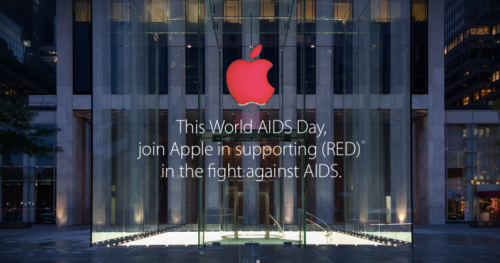 Leave a comment