Possible Photo of 'iPad Mini' Dock Connector Flex Cable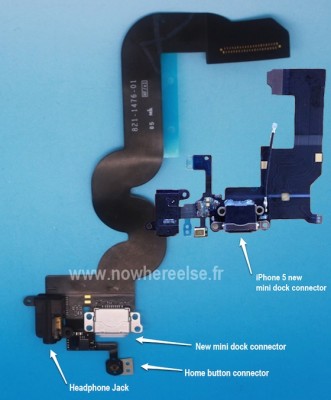 Nowhereelse.fr obtained and posted a new photo of what it believes may be a flex cable component for the "iPad mini", housing Apple's smaller dock connector, the headphone jack, and the home button connector. But the photo is pretty similar to that one that was posted back in May, revealing a part said to be for the next-generation iPhone.
The report notes that Kyle Wiens of iFixit has offered his thoughts on the photo, with Wiens reporting that it is indeed consistent with being an Apple component but that he is unable to confirm its authenticity. The part does bear a close resemblance to the part claimed to be for the next-generation iPhone, and it also carries a part number in the style of Apple's other iOS device flex cable components. The most troublesome aspect of the part is the location of the headphone jack directly next to the dock connector. Moreover, accumulated evidence suggests that Apple will be moving the headphone jack to this location on the next-generation iPhone.

Leave a comment