Siri itself confirms Japanese support coming soon to Apple's iPhone 4S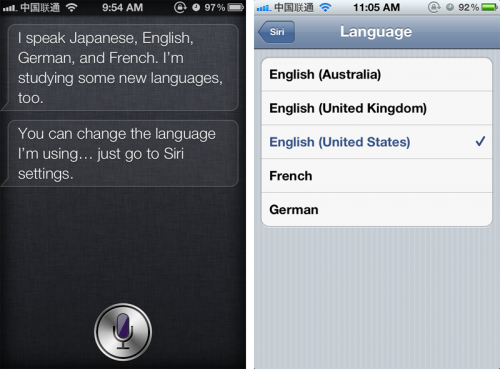 Watchful iPhone 4S users noticed on Tuesday that Siri is now claiming to speak Japanese. Apple's Siri virtual assistant for the iPhone 4S claims it can already speak Japanese, despite the fact that the language is not yet enabled in the feature's settings.
When asked what languages it can speak, Siri responds, "I speak Japanese, English, German and French. I'm studying some new languages, too."
It then adds, "You can change the language I'm using…just go to Siri settings." However, the settings pane for the feature shows only English (with separate selections for Australia, United Kingdom and United States), French and German, with no way to select Japanese.
Apple has promised that Siri support for Japanese, Chinese, Korean, Italian and Spanish will arrive sometime during 2012.
It's hard for Apple to expand Siri's capabilities. The company even posted several job listings seeking for "Language Technologies Engineers" who would help port Siri to other languages.
Siri was originally a free application in the App Store until Apple purchased the company in 2010. At the time, Siri seems to be a "major cornerstone in how [Apple] competes with Google."

Leave a comment