Winter 2010 Stanford iPhone Application Development Course Avaliable Online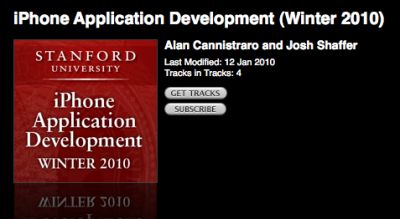 One of the most popular courses on Apple's iTunes U education is back. The Winter 2010 semester of Stanford University's iPhone Application Development Course is now available via iTunes U.
This is a 10 week session that will focus on updated material for iPhone OS 3.1. The videos for the course will also offer more this year. "We're getting the videos closed captioned this time, so they'll be even more accessible," said Julie Zelenski, a Stanford computer science lecturer who helps coordinate the class.
The course was downloaded more than 4.4 million times last year.

Leave a comment