News tagged 'Android'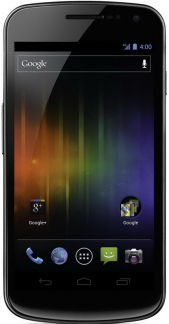 Mere hours after serving up a ruling on Friday for a failed Samsung lawsuit against Apple, the Mannheim Regional Court held a hearing about Apple's complaint against Samsung's Galaxy Nexus. It is the first time when Apple has named the South Korean electronics manufacturer's flagship Android handset in a lawsuit, claiming the device infringes the iPhone maker's "slide-to-unlock" utility model that was first introduced with the original iPhone in 2007 and subsequently patented with the U.S. Patent and Trademark Office in October 2011
Examinations of utility model registrations are not as stringent as patent filings and don't carry a presumption of validity which is necessary for a court ruling. Thus the Mannheim court does not foresee an immediate decision in the "slide-to-unlock" suit as it believes the validity or invalidity of the invention is too close to call.

Leave a comment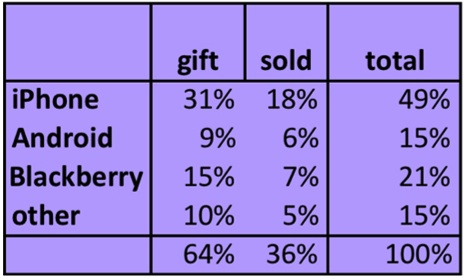 AllThingsD reports on a survey made by Consumer Intelligence Research Partners (CIRP) which analyzes the impact of the market for iPhones that are given away or resold when users buy the latest models. The survey looked at users upgrading to new iPhones beginning with the launch of iPhone 4S in October and found that 53% of those customers had returned their used iPhones to the secondary market.

Leave a comment


DigiTimes reports, citing its sources, that Apple has decreased shipments of iPad 2 displays from 16 million panels in the third quarter to 10 million panels in the fourth quarter of 2011 and to 7-8 million panels in the first quarter of this year. This means that by the end of this year the production of Retina displays for iPads 3 with resolution of 2048x1536 pixels will surpass that of panels for iPads 2.

Leave a comment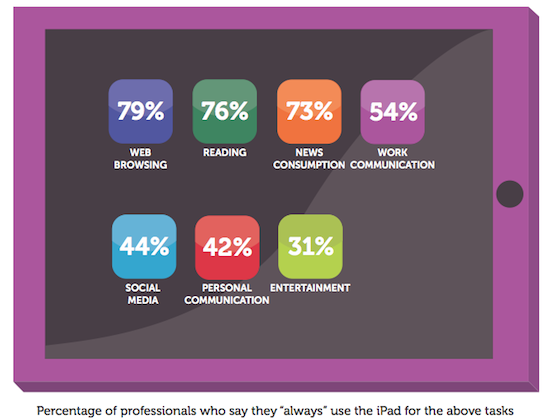 Research firm IDG published a new survey showing that iPad is very popular tool among business and IT professionals. According to the global survey, which is available for download, 91% of respondents "always" or "sometimes" use the iPad at work. Consumers and professionals both use the iPad for media consumption, and in the case of pros is chiefly work-related and text-based.

Leave a comment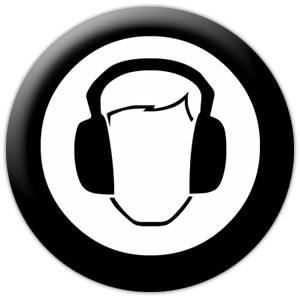 iTunes had for a long time been the only marketplace for iOS-device owners as third-party storefronts was prohibited by Apple's rules. Giving way to government regulators, Apple last year changed its policy related to third-party stores and allowed subscriptions. This opened the way for music apps from Shazam and Spotify that have recently appeared on the iOS platfrorm. Currently another major music service is going to compete with iTunes.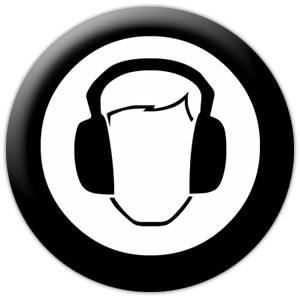 iTunes had for a long time been the only marketplace for iOS-device owners as third-party storefronts was prohibited by Apple's rules. Giving way to government regulators, Apple last year changed its policy related to third-party stores and allowed subscriptions. This opened the way for music apps from Shazam and Spotify that have recently appeared on the iOS platfrorm. Currently another major music service is going to compete with iTunes.

Leave a comment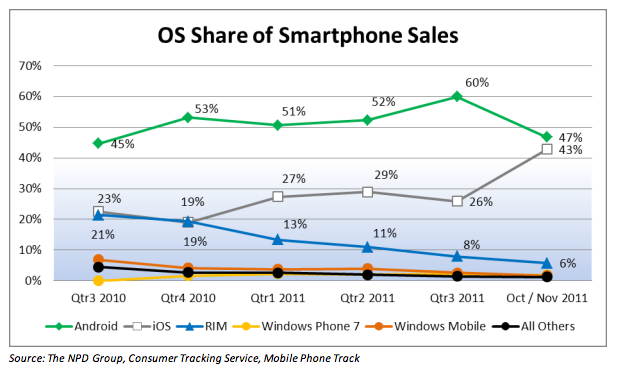 According to latest data from research firm NPD, iPhone 4S is turning the tables in the tough competition between Samsung and Apple. Analyzing U.S. smartphone sales data for November and October, the NPD found out that iOS considerably increased its share in U.S. smartphone sales, while the Android platform lost significant share to Apple (via Fortune).

Leave a comment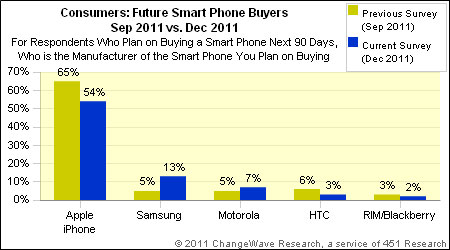 ChangeWave Research yesterday released the results of its new survey of North American smartphone customers. The survey demonstrates that over a half of those looking to purchase a smartphone over the next 90 days are planning to buy an iPhone 4S. But the 54% share of future buying plans held by Apple as of December was down from 65% in September.
The late December survey looked at smart phone demand trends going forward, and finds Apple iPhone demand remains incredibly strong more than two months after the iPhone 4S release.

Among respondents planning to buy a new smart phone in the next 90 days, better than one-in-two (54%; down 11-pts) say they'll get an iPhone.

Apple has never dominated smart phone planned buying to this extent more than two months after a major new release.

Leave a comment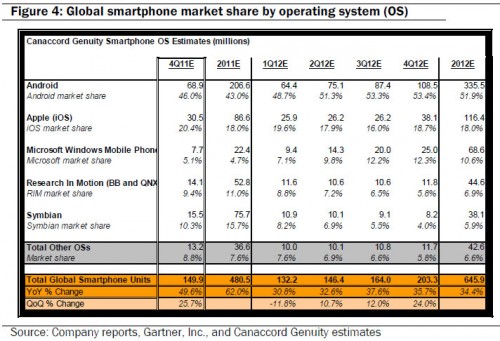 Analyst Michael Walkley with Canaccord Genuity expects that combined iPhone and iPad sales in calendar 2012 to reach more than 170 million in another record breaking 12-month span. He sees 2012 being another banner year for Apple, with sales of 116.4 million iPhones and 54.6 million iPads. Walkley believes that iOS mobile operating system share will reach 18 percent, and will take the second place behind only Google's Android with 51.9 percent on sales of 335.5 million handsets.
"We believe Apple sold through at least (12 million) iPhone units in the U.S. market during the December quarter," Walkley wrote. "With some channel inventory built for the new 4S, we believe the U.S. market could exceed (14 million) iPhones sold into the channel during the December quarter."

Leave a comment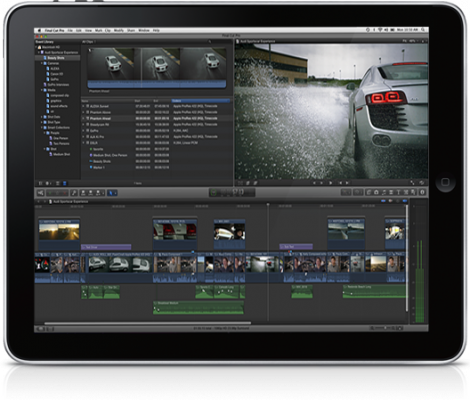 Citing component makers in Taiwan, DigiTimes reported on Friday that the so-called "iPad 3" will launch in March with a high-resolution Retina Display, while an "iPad 4" will arrive in October of this year to counter a rumored Google-branded tablet as well as touchscreen devices running Microsoft's Windows 8 operating system.
Apple will ship the so-called "iPad 3" with a full HD display in March and then "iPad 4" - named so by its component suppliers - with killer applications in October, according to industry sources in Taiwan. [...]

But a true battle for market share will arrive in the second half of the year when Apple ships its iPad 4 in October, about the time when Microsoft releases its Window 8 and Intel unveils its Clover Trail-W platform, the sources commented.

The 9.7-inch iPad 4 is expected to come with much upgraded hardware specifications and integrated applications so as to compete with an array of Android-, Wintel- or WoA (Windows on ARM)-based tablet PCs to be released in the fourth quarter, said the sources.
Finally, Digitimes suggests that Apple will continue to sell the current iPad 2, but will drop its price to $399, much like Apple currently does with older iPhone models, to counter lower priced tablets that are available, such as the Kindle Fire for $199.

Leave a comment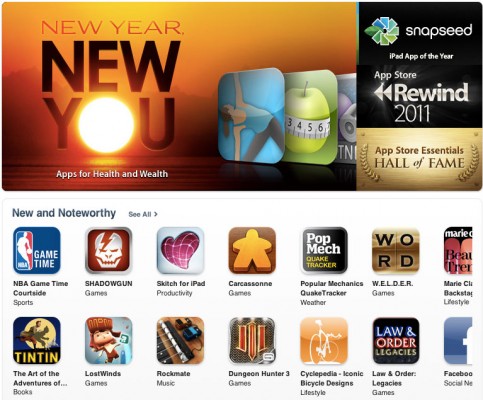 ABI Research, which tracks mobile application downloads and revenues segmented by mobile operating system platform, announced in a press release on Wednesday that 3 billion applications designed specifically for Apple's iPad were downloaded via App Store since the iPad first launched in 2010. The iPad downloads represent 19 percent of all iOS App Store downloads.
"Discounting all of those apps that were originally downloaded for Android smartphones, Android still trails greatly behind the iPad in terms of its tablet app offerings," research associate Lim Shiyang said. "Many Android tablets in the market are still using older versions of Android, which disadvantages users from enjoying the better effects of apps produced from more advanced software development kits."
As of the third quarter of 2011 there are 120,000 applications created specifically for the iPad were available on the App Store, comparing with last June numbers that accounted 100,000 applications. The growth of iPad-specific applications and downloads of iPad software is comparable to the explosive start the iPhone had when the App Store first opened.

Leave a comment


The latest figures from Net Applications show that Apple closed out 2011 with a commanding 52.1 percent share of mobile devices tracked browsing the Web.  In second place was Java ME with 21.3 percent, while Google's Android came in third with just 16.2 percent.
Apple's share slid from 54 percent in November of 2011, and is down from its high of 61.5 percent in October. But it's also up from the 46.6 percent share iOS was tracked at in February of 2011. Coming in fourth in the data was Nokia's Symbian platform, with 5.8 percent, while Research in Motion's BlackBerry holds 3.5 percent. Interestingly, while sales of new BlackBerry devices have been weak, December of 2011 proved to be the best month of the year for RIM.
If dividing Apple's devices shares in mobile web-browsing, the iPhone took 25.2 percent and leads all mobile devices. The iPad, though, was the second most popular device, with a 24.5 percent representation.
In the PC market Apple's Macs platform finished with 6.4 percent in December of 2011 comparing with the 92.2 percent share Microsoft held with Windows. Windows XP, despite being 10 years old, is still leading the market with 46.5 percent. Windows 7 is in second with 37 percent, while Windows Vista holds 8.44 percent. As for Apple's Mac OS X, Mac OS X 10.6 Snow Leopard platform remains its most popular at 3 percent, Mac OS X 10.7 Lion, released in July, closed out 2011 with a 2 percent share in December.

Leave a comment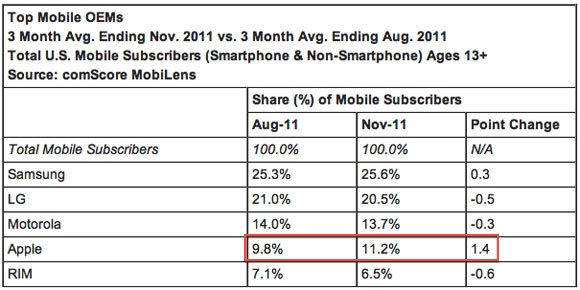 Market research company comScore published their latest estimates of market shares taken by the main players on the mobile market. Apple's share continues to slowly move upward with 11.2 percent of all U.S. Mobile Subscribers.

Leave a comment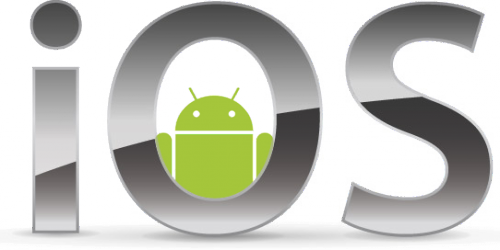 Kevin Rivette, managing partner at intellectual property firm 3LP Advisors LLC, said in an interview with Bloomberg that if Apple were to abandon its lawsuits against Android smartphone manufacturers and instead negotiate licensing fees for its patented technology, Apple could collect $10 for each Android device sold. But as far as we know Apple is not interested in licensing Apple's patented technology to Android manufacturers. Steve Jobs called the Android products as the "stolen" ones and wanted "to go thermonuclear war" against Android.
"A scorched-earth strategy is bad news because it doesn't optimize the value of their patents -- because people will get around them," Rivette told Bloomberg.

"It's like a dam. Using their patents to keep rivals out is like putting rocks in a stream. The stream is going to find a way around. Wouldn't it be better to direct where the water goes?"
Such approach makes mobile devices manufacturers to modify their infringing products and work around Apple's intellectual property. For example, earlier this month, the U.S. International Trade Commission found that HTC was in violation of an Apple patent related to "Data Detectors," but only a day later HTC said it was testing new devices that work around Apple's patent.

Leave a comment


According to Bloomberg, Apple's ongoing patent war with the manufacturers of Android-based devices has mixed results. Bloomberg wrote that Apple could cut its losses and earn 10$ per Android-based device sold if the company would reach settlements with its competitors.

Leave a comment