News tagged 'прошивка 3.1.2'

There is an app for about everything. iMaya is an iPhone application that shows a countdown clock until time X of 2012.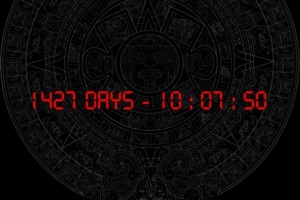 Here is a quick story about this Maya calendar. Maya civilization had several different calendars, the longest one, The Long Count, identifies a date by counting the number of days from the Mayan creation (August 11, 3114 BC in the proleptic Gregorian calendar or September 6 in the Julian calendar). But instead of using a base-10 (decimal) scheme like Western numbering, the Long Count days were tallied in a modified base-20 scheme. Thus 0.0.0.1.5 is equal to 25, and 0.0.0.2.0 is equal to 40.
The Maya name for a day was k'in. Twenty of these k'ins are known as a winal or uinal. Eighteen winals make one tun. Twenty tuns are known as a k'atun. Twenty k'atuns make a b'ak'tun. Confused? Don't panic. 1 B'ak'tun is about 144,000 days or 394.3 years.
The date December 20, 2012 is simply the last day of the 13th b'ak'tun. And here is the big misinterpretation of the Mesoamerican Long Count calendar. There is a belief, that this date is the basis for a New Age and for a big cataclysm. For the ancient Maya, it was a huge celebration to make it to the end of a whole cycle. But that is not the end of the Long Count because the 14th through 20th b'ak'tuns are still to come. So we need to wait for another 7 b'ak'tuns (> 2700 years), when this Long Count calendar will end.
The app costs $0.99 and is available in AppStore (link). It requires firmware 3.1.2 and is localized in various languages.

Leave a comment, read comments [1]


GeoHot released blackra1n. blackra1n is a 30 second ALL device firmware 3.1.2 jailbreak. There is even supports for iPod Touch 3G jailbreak. For now there is only a version for Windows, but the Mac version should be released soon (UPDATE: Mac version is ready)
Download blackra1n utility here.
Warning iPhone 3G and iPhone 3GS unlockers, do not upgrade to firmware 3.1.2 using iTunes, if you want to keep your unlock. Baseband cannot be downgraded.
PS: Blackra1n doesn't hacktivate the device.

Leave a comment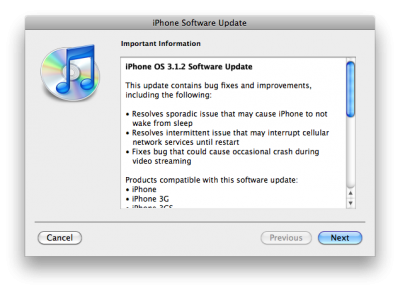 Apple has just released a new firmware version 3.1.2 for all the iPhones and iPod Touches. Weights around 300 MB. Here is the changelog:
This update contains bug fixes and improvements including the following:

Resolves sporadic issues that may cause iPhone not to wake from sleep
Resolves intermittent issue that may interrupt cellular network services until restart
Fixes bug that could cause occasional crash during video streaming
Also, the iPhone OS 3.1.2 update for iPhone in U.S. is accompanied by an update to AT&T's carrier settings file, which brings the settings to version 5.6.
You can download firmware 3.1.2 here or via iTunes. We strongly recommend users who want jailbreak or unlock NOT to upgrade, just wait for new utilities.

Leave a comment