News tagged 'Hardware'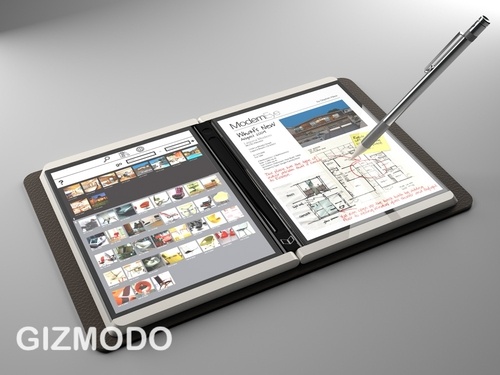 Several web-resources including Gizmodo and TechCrunch confirmed that HP stops working on its "HP Slate" tablet device. The decision is caused by this week's deal that will end soon with acquiring Palm. Now Hewlett-Packard is rumored to integrate Palm's WebOS instead Microsoft WIndows in their tablet (which can take a year or more) and reconsider using Intel-based hardware in it because of its excessive power requirements.
So now it looks like HP changes it course and is going to convert webOS to a tablet OS and compete with Google's Android and Chrome on the market of operational systems.
Meanwhile, Microsoft has also cancelled working on its own booklet-style tablet device called "Courier". Gizmodo sources say the project will be no longer supported. Anyway, the device had never been publicly announced, though it could be very interesting with its two touch-sensitive screens in a foldable format and handwriting recognition input.

Leave a comment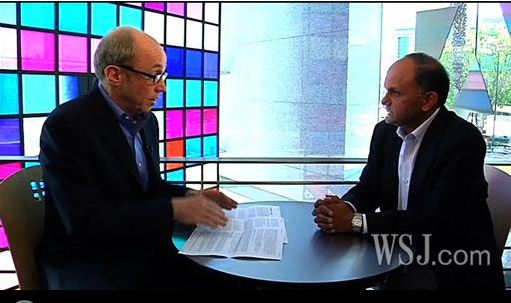 This week's sensation was a Steve Jobs' letter published officially on Apple's site. If you didn't read it or want to remind it to yourself, here are its main tent poles:

Read the rest of this entry »

Leave a comment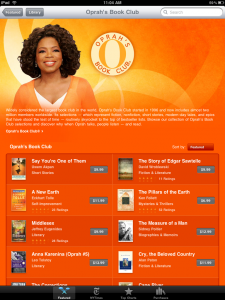 Recently Oprah Winfrey declared herself a fan of iPad in the front of millions of TV viewers. She called the device "amazing" and said that its hardware will "change the way kids learn." TV host admires its backlit touchscreen and thinks it has great opportunities for reading, playing games and sharing photos.
Some time ago Oprah has been promoting Amazon Kindle on TV, and once the sales of this device were boosted so strong the company had problems with keeping up with demand. When she has been speaking about iPad she also mentioned Kindle in the past tense, like she "HAD a Kindle". But later her spokesperson said she still uses both devices.
Oprah's Book Club may be viewed in iBookstore for iPad, and its books may be purchased for a standard fee.

Leave a comment

Today mobile ad firm AdMob has released another Mobile Metrics report that consists of information about the software and hardware that had been used by Apple's handsets owners in March.
The study reveals that only 2% of all Apple devices with iPhone OS are first-gen iPhones. But it is important to notice that since the first sale of iPhone OS-based device Apple sold over 85 million of its worldwide. If we'll take the period between June 2007 and July 2008 (time when iPhone 3G was shipped), then it turns out that company sold 6.1 million of iPhone 2G, which is approximately 7% of the total sum of handsets that were sold.
Fortune Brainstorm Tech journalist Philip Elmer-Dewitt continues to count and then sums up:
"If 7% of those iPhone 1Gs are driving 2% of AdMob's traffic that suggests that nearly one in three is still ticking - and visiting the Web."
Obviously, the popularity of the first-generation iPhones will be further reducing without iPhone OS 4.0 support.
AdMob also found that the most popular iPhone in March 2010 was iPhone 3GS, which generated 39% of all traffic. This is much higher result than 9% in September 2009.
Other information can be seen above on the graphs.

Leave a comment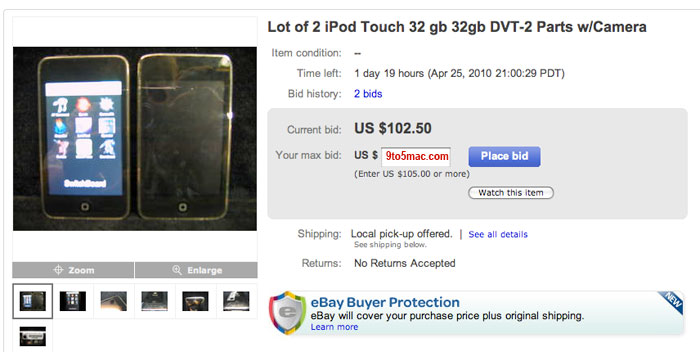 Early this morning 9to5mac.com has posted a link to an eBay page where some seller was selling 2 semi-working iPod Touches that have cameras (!) and run a development version of the iPod OS.
The devices are marked with "Apple Development Team", "DVT-1" and "DVT-2". DVT means "design verification test". As you see from the photos below the UI looks pretty strange. Some people say it is a software that hardware team gets to set.
Currently the link is being broken so we can't check the information. Maybe Gizmodo already bought it? Also, the devices look very used, so there is no reason why it can't be another Chinese clone.

Leave a comment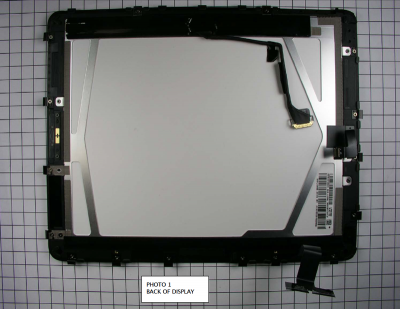 Yesterday U.S. Federal Communications Commision revealed internal hardware photos of iPad, though they had originally obtained it as early as on March 12. It is a series of 17 pictures that gives a view of the display, the battery, the Bluetooth and Wi-Fi chips and more. Like in other Apple portable devices there is no empty place to waste.
The display seems to be made by LG Philips. The device has A4 processor, Broadcom BCM5973 chip and NAND flash memory from Toshiba. The solutions provider wrote:
"It looks like there is a LOT of glue holding these chips down to the board. More than we've seen before -- Apple is really serious about durability on this thing."
The device ID in FCC is "BCG-E2381A". The related documents and photos can be found here. Some of the pictures are added below.

Read the rest of this entry »

Leave a comment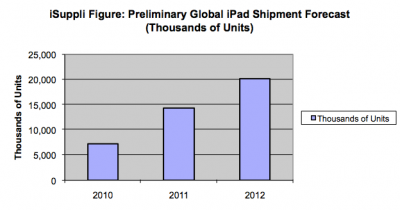 New forecast published by iSuppli on Friday revealed that approximately 14.4 million iPads will be sold in 2011 and 20.1 million - in 2012. This year won't make a sales record because most of the consumers will buy it for its unique touch-screen. By 2011-2012 the device will become more popular with the increasing number of App Store applications, declining prices and improved functionality, so people will more clearly understand its possible purposes.
But iSuppli claims the research to be "conservative", because it doesn't take into account unforeseen features that Apple can quickly add to iPad to boost sales (for example, integrating Adobe Flash support). However the numbers rely on a patented multi-touch technology that will mainly define the popularity of a new device.
iSuppli director of monitor research Rhoda Alexander admires iPad:

Leave a comment

Paul Rand is not a well-known person, but it was he who created logos for such famous companies like ABC Television, UPS, IBM and NeXT. He didn't actually design any of the logos for Apple, but he was chosen to be portrayed with an Apple logo for a print ad.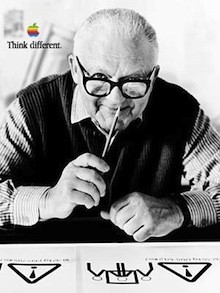 In 1993 Steve Jobs gave an interview to Alan Pottasch and Doug Evans. That was a time when he was a chief executive officer of NeXT and concentrated on porting their NeXTSTEP OS for x86 processors. That year Apple changed the guard from J. Sculley to M. Spindler.
At that interview Jobs spoke much about Rand as of an artist who became a "gem" for the company. He also says:
"When you scratch the surface of any of his work, you find out the depth of the intellectual problem solving that's taken place."
His speech reflects the ideal of current Apple's products. It is not only the hardware design that attracts people, it is also a software and the forseen interaction beneath it.

Leave a comment