News tagged 'iTablet'

Here is an Apple iPad hands on video from CNet specialist Brian Tong. He actually finds some functionality that Apple didn't show at the keynote. Let's watch:
Here is another CNet iPad video, made right after the keynote:

Read the rest of this entry »

Leave a comment

Here is the first video of Apple iPad that was announced just couple hours ago. It is made by engadget specialists and shows the tablet in action. Let's watch:

Leave a comment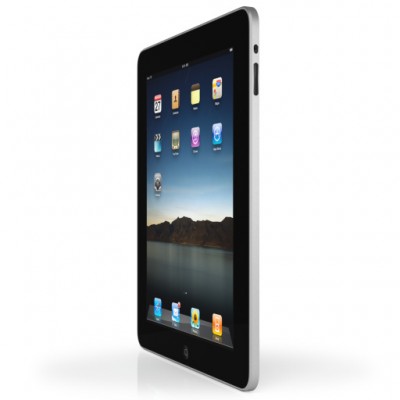 Here are the official iPad photos from Apple. On one of them you can see iPad WiFi+3G model - it is with a black horizontal bar on the top. Let's watch the gallery:

Leave a comment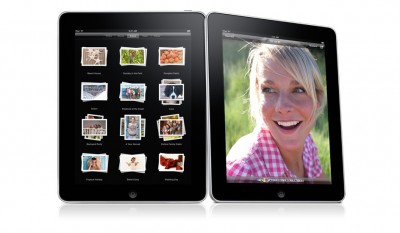 Users can run all different applications on iPad. Here is a photo gallery of Apple apps running on iPad. You can see familiar iTunes, iPod, Safari, Contacts, Maps, Photos, Mail, Youtube, AppStore, Notes and Calendar. The is a also new one called iBooks. Take a look:

Leave a comment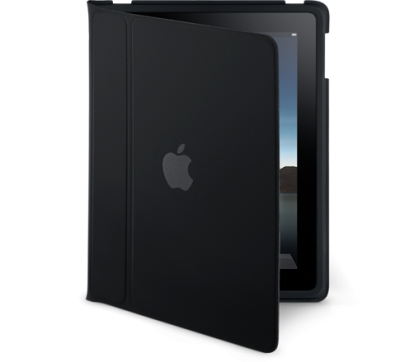 There are several accessories that will be avaliable for Apple iPad. First of all there will be a keyboard dock made specially for iPad. Rumors say that bluetooth keyboards will also work with the new tablet. Apple will also sell a "camera connection kit" that will allow users to plug a camera and import photos to iPad via USB or an SD card. The final accessory is an Apple-built case for the device that protects the screen and allows to use iPad in two different orientations without any problems.
Take a look at the photos:

Leave a comment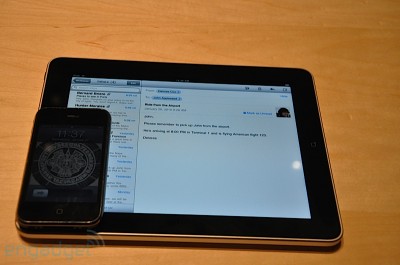 Here is the first photo gallery of Apple iPad next to Apple iPhone:
Read the rest of this entry »

Leave a comment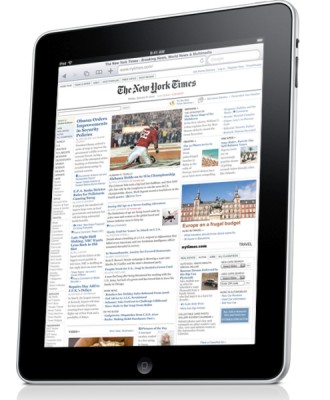 Apple's finally announced the iPad (Apple Tablet). It is perfect for tasks like browsing, email, photos, e-books and videos. It's a half-inch thick and weighs just 1.5 pounds (680g), with a 9.7-inch capacitive touchscreen IPS LCD display and it's running a custom 1GHz Apple "A4" chip developed by the P.A. Semi team. The 10-hour battery life and a month of standby is quite exciting.
There will be devices with 16, 32 and 64GB. All iPads will get a 30-pin Dock connector, a speaker, a microphone, Bluetooth, 802.11n WiFi and optional 3G, as well as an accelerometer and a compass. There's also a keyboard dock, which connects underneath in the portrait orientation. iPad supports up to 1024x768 VGA out and 480p composite out through dock adapter cables. There is a camera attachment kit that lets you import photos from your camera over USB or directly through an SD reader.
The device is managed by iTunes, just like the iPhone and iPod Touch. iPad can run iPhone apps: either pixel-for-pixel in a window, or pixel-doubled fullscreen. Developers can also target the new screen size using the updated iPhone OS SDK, which is available today.
The 3G version runs on AT&T and comes with new data plans: 250MB for $14.99 and an unlimited plan for $29.99 a month contract-free. Activations are handled on the iPad, so you can activate and cancel whenever you want. Every iPad is unlocked (!) and comes with a GSM "micro-SIM".
The price starts at $499 for 16GB, 32GB for $599, and $699 64GB. Adding 3G costs a $130 per model, so the most expensive model (64GB / 3G) is $829. The WiFi-only model will ship in 60 days, and the 3G models will come in 90.
UPDATE: The 3G version will also have A-GPS.

Leave a comment

Today Apple announced it's tablet computer - it is called Apple iPad. The screen is gorgeous, tilting is responsive, and the device is insanely thin and light. Here are first high quality photos from engadget:

Leave a comment

Here is our live blog from Apple's event:

Leave a comment, read comments [1]

Engadget has received some very interesting photos that could refer to the Tablet from Apple that will be presented today.
Okay, we obviously can't confirm this, but we just got two very interesting images of what certainly looks like a prototype Apple tablet.
The device appears to have a very iPhone-like Maps application with UI elements consistent with the current iPhone. Obviously, the screen is much larger with a much larger viewing area. There appears to be a home button at the bottom of the device, and a Wi-Fi signal near the top with "No Service" indicating no cellular service at the time the photo was taken.

Leave a comment

There is only one day left until Apple's event on Jan 27, where Apple Tablet is expected to be presented. The number of rumors thow grow rapidly. There are discussions about the name, the price, specifications and much more.
Here are two images published on TechCrunch: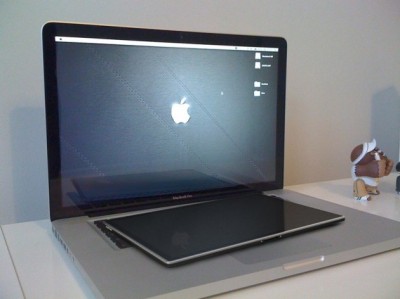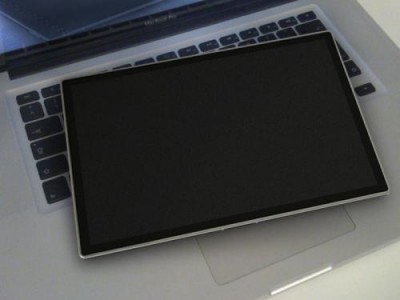 The photos are really well done. In previous rumors we have heard that the tablet should have a shape similar to that of the iPhone and a Home button. How Apple Tablet will actually look like? Nobody knows yet.
In addition to the photos here are couple videos, which look like fake, but a very good one.

Read the rest of this entry »

Leave a comment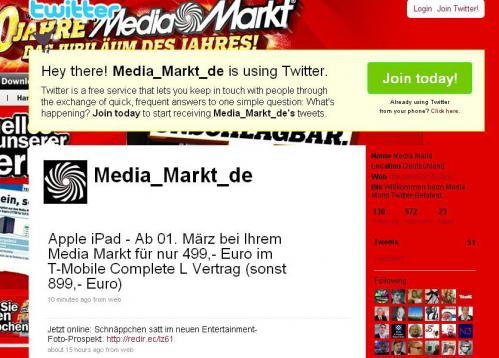 According to a (now deleted) tweet by major German electronics retailer Media Markt, the Apple iPad will go on sale March 1st at a price of 499 Euros (~$700) with T-Mobile contract or 899 Euros (~$1200) without. In the US prices would likely be around $500-$600 with contract and $999 without. These numbers were calculated comparing Apple items sold in Euros and USD (Mac Mini: 549 Euros / $599 USD, MacBook 899 Euros / $999 USD).
The company, however, quickly deleted the tweet but not before it was retweeted a number of times.

Leave a comment