News tagged 'Micro SIM'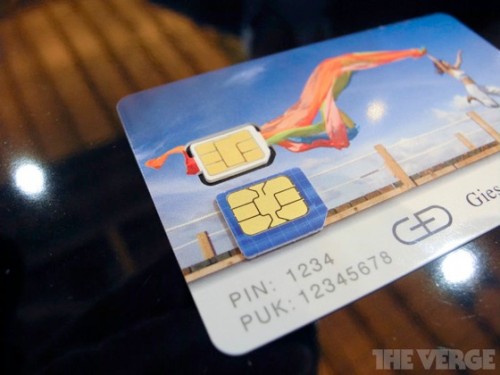 Financial Times reports that European carriers have begun stockpiling the new nano-SIMs ahead the launch of the next-generation iPhone that will use the new standard.
Operators expect that the iPhone will feature the nano sim in a slimmed down design, according to two sources with knowledge of the situation, and have begun to store millions of the cards in warehouses in anticipation of high demand for Apple's iPhone. Apple declined to comment.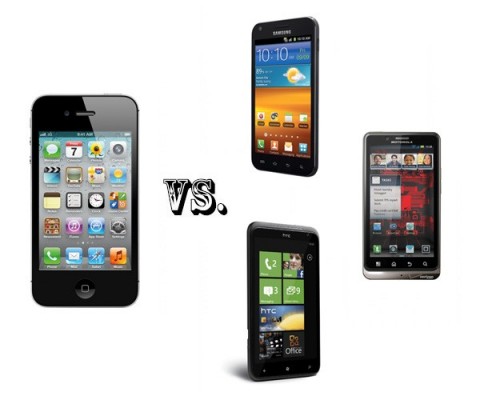 We know that iPhone 4S is better than the iPhone 4, let's take a look at how Apple's latest smartphone compares to Android and Windows phones. Engadget compared iPhone 4S with Samsung Galaxy S II, Motorola Droid Bionic and HTC Titan. The first two are Android based, while the last one is Windows one.
Take a look at the results: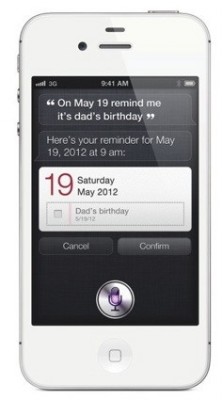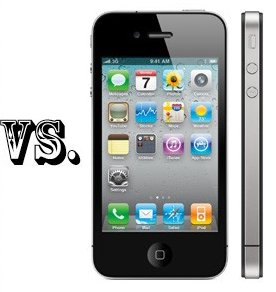 It's finally happened, today Apple has finally announced new iPhone 4S. Here's our usual comparison table iPhone 4S vs iPhone 4: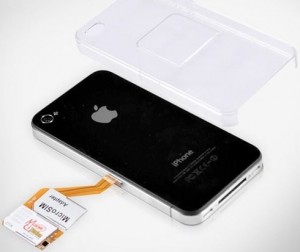 Today you can find a lot of phones with dual slot for SIM cards, most of them are designed for Asian markets, but the iPhone is far from the two SIM cards: in fact, it does not even sport a Big Person SIM to call its own. Fortunately, USBFever has the perfect solution to this problem. USBFever offers a new case at $ 30, where you can put two SIM cards on the back side of the iPhone 4 (built in a rather stylish, transparent plastic), while the adapter is connected to the micro SIM slot of your iPhone 4. Now you can switch between two SIM cards with your own iPhone's setup menu, though, unfortunately, you can not use both SIM cards at once.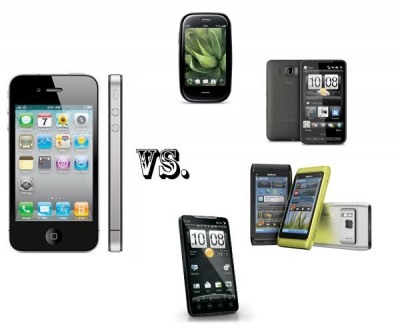 We know how the new iPhone 4 compares to the iPhone 3GS. Now it is time to size it against its fiercest competitors from all the major platforms. Take a look at the results against the HTC EVO 4G, Nokia N8, Palm Pre Plus and HTC HD2:

Thanks to Engadget we now have a spec comparison between the iPhone 4 and the older model iPhone 3GS.
| | | |
| --- | --- | --- |
| | iPhone 4 | iPhone 3GS |
Price (on contract)
$199 16GB, $299 32GB
$99 8GB
Processor
Apple A4
600MHz, Cortex-A8 architecture
Display
3.5-inch IPS 960x640
3.5-inch 480x320, no IPS
Primary camera
5 megapixel AF with flash
3 megapixel AF
Secondary camera
VGA
No
Video recording
720p at 30fps, optional iMovie
VGA at 30fps, basic editing capabilities built-in
Cellular
UMTS/HSDPA/HSUPA (850, 900, 1900, 2100 MHz), GSM/EDGE (850, 900, 1800, 1900 MHz)
UMTS/HSDPA (850, 1900, 2100 MHz), GSM/EDGE (850, 900, 1800, 1900 MHz)
WiFi
802.11b/g/n
802.11b/g
Orientation sensing
Accelerometer, compass, gyroscope
Accelerometer, compass
FaceTime video calling
Yes
No
SIM standard
Micro SIM
SIM
Battery life
Up to 7 hours talk time on 3G, 12 hours on 2G

Up to 6 hours data on 3G

Up to 10 hours data on WiFi

Up to 40 hours audio

Up to 10 hours video

Up to 5 hours talk time / data on 3G, 12 hours on 2G

Up to 5 hours data on 3G

Up to 9 hours data on WiFi

Up to 30 hours audio

Up to 10 hours video

Weight
137 grams / 4.8 oz.
135 grams / 4.76 oz.
Dimensions
115.2 x 58.6 x 9.3mm
115.5 x 62.1 x 12.3mm