News tagged 'review'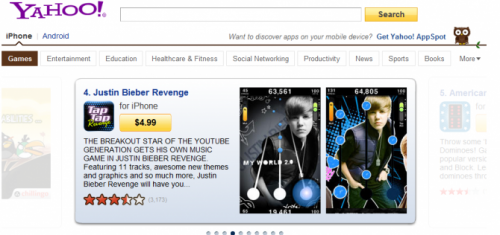 Today Yahoo! revealed new tools that can help in seeking apps for your iOS device. It's a dedicated search engine Yahoo! App Search and iOS app called Yahoo! App Spot.
Besides using standard app descriptors the tools also introduce and utilize rich categories, personalized recommendations, user reviews on the web, different ratings and so on.

Read the rest of this entry »

Leave a comment, read comments [1]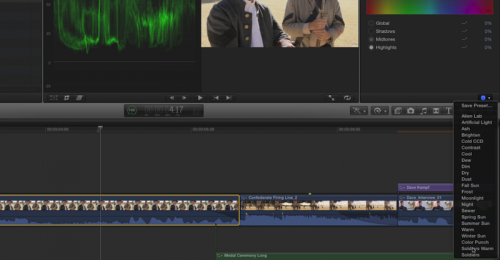 Twitter user @MortGoldman2 somehow obtained new screenshots of upcoming Final Cut Pro X release and claims they "should be legit".
The latest version of Final Cut Pro X was previewed by Apple this April in Las Vegas. Its release is scheduled later this month on the Mac App Store. 64-bit software will cost $299.

Read the rest of this entry »

Leave a comment


Leave a comment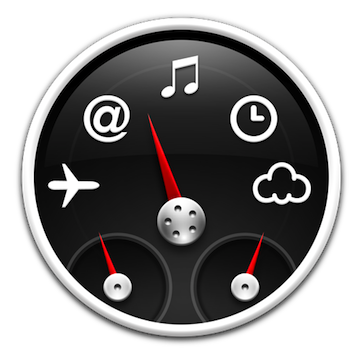 As far as we know, WWDC, set for the 6th June, will be about software and the future of iOS and Mac OS X. TechCrunch believes that the forthcoming iOS 5 will be unveiled at the WWDC because Apple invited journalists and the iPhone PR team that usually covers major iOS announcements. As expected, Apple will introduce a completely revamped notifications and widgets. Apple's fans' videos in the past weeks showed how Apple could change notifications and bring new voice-recognition features and implement Lion-like Dashboard and home screen widgets. Other interesting feature, Nuance's voice-recognition, which Apple is rumored to implement with some licensing deals on iOS and OS X Lion, will unlikely to be introduced  in a new version of Voice Control (functionality that allows users to quickly call a contact or control music playback only using their voice) for iOS 5.

Leave a comment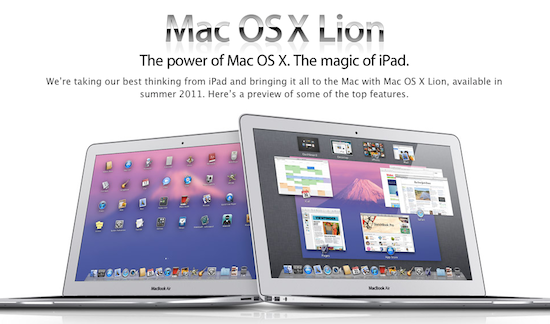 TUAW reports that Mac OS X Lion has gone "live for internal testing" at Apple last week. Whilst it's not clear what that means, we assume Apple has begun widespread internal testing of a new build of the OS that's nearing GM status. TUAW suggests Lion might see a public release at WWDC in two weeks, or at least sooner than previously expected:
This suggests the new OS might possibly ship as early as WWDC with an "available today" mention at the keynote — or it might not. But Lion is looking to be one step closer to availability for Apple customers.
Remind you that the latest developer preview of OS X Lion brought minor graphical changes to apps Apple had already updated, as well as tweaks and performance improvements to make the OS more stable and faster.

Leave a comment

A new rumor suggests the two-year old iPhone 3GS won't get the iOS 5 upgrade when Apple releases the first betas this summer and the final version of the OS likely this Fall. According to Russian analyst and Mobile Review editor Eldar Murtazin, the 2009 iPhone 3GS will stay on iOS 4, thus leaving the iPhone 4 and next-generation device Apple is scheduled to announce later this year as the only iPhone models capable of running iOS 5.

Leave a comment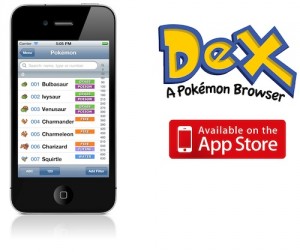 MacStories posted a message from one App Store developer who recently saw the iAd fill rate for his Dex application for iOS drop to zero. He asked Apple and received the following answer:
We periodically review the apps in the iAd Network to ensure that all apps receiving ads are aligned with the needs of our advertisers. Currently, our advertisers prefer that their advertising not appear in applications that are targeted for users that are young children, since their products are not targeted at that audience.

Leave a comment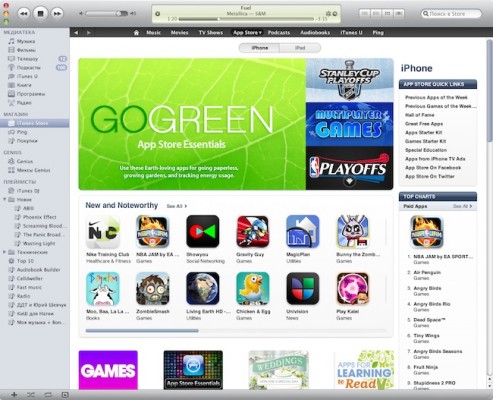 Recently Apple has made changes to its app policy and focused on making the iOS App Store the most attractive rather than simply the biggest.
Lately the company has banned the idea of "incentivized app installs", which was used by certain game developers to prompt players to install other apps if they want to continue playing. Because of the incentives some apps become artificially popular and don't reflect the actual situation in top games chart, for instance.

Read the rest of this entry »

Leave a comment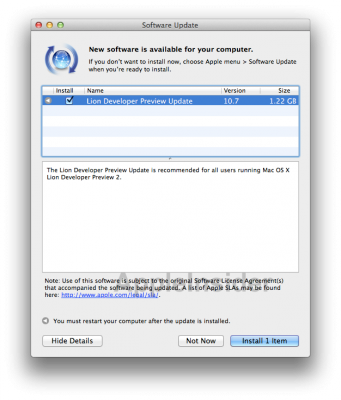 This Friday Apple has released a second update for Preview 2 of Mac OS X 10.7 Lion. A 1.22GB download is recommended for all users running Mac OS X 10 Lion Developer Preview 2 and is available via Software Update. The version of the latest build is reportedly 11A444d.
So what's new?

Read the rest of this entry »

Leave a comment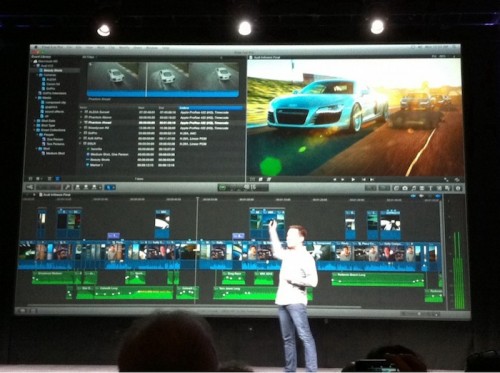 Yesterday Apple previewed a new version of Final Cut Pro version X at the National Association of Broadcasters conference in Las Vegas.  The upgrade will be available on the Mac App Store in June for $299. Apple promised that the new version of Final Cut Pro will be "as revolutionary as the first version of FCP."
Apple is promoting the new FCP X as a complete and total rebuild. As reported by Photography Bay, new features in Final Cut Pro X include:

Leave a comment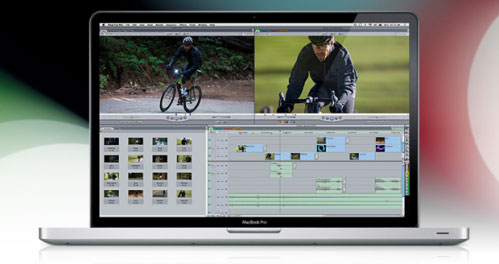 Apple is rumored to announce the new Final Cut Pro on April 12th during the 10th annual SuperMeet. Canon, Avid, and Autodesk will not be presenting on the event. In January Hardmac proposed that Apple was testing a beta version of Final Cut Pro, and that it was slated for a late March or early April release date. Moreover Final Cut author Larry Jordan  writes on his blog:
I've Seen The New Version of Final Cut Pro… and it's a jaw-dropper. Last week, Apple invited a few folks, including me, to a short meeting in Cupertino where they previewed the up-coming version of Final Cut Pro. While I am under NDA and can't talk about what I saw, I CAN tell you the meeting happened and that it showcased the new Final Cut Pro.

Leave a comment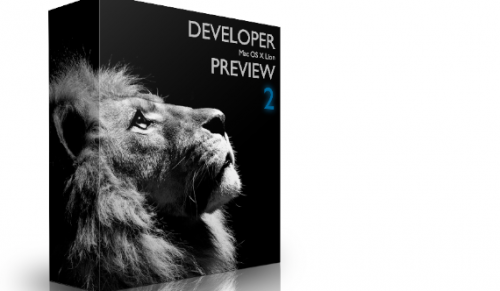 Yesterday Apple released the second developer preview of Maс OS X Lion for testing purposes. The new Build 11A419 is not a Gold Master Candidate build, as it still contains many known issues that need to be fixed. Changes included in the update are currently unknown. It seems that the update is aimed at allowing developers to download future updates. Nevertheless, TechCrunch reports that this is indeed the "golden master candidate" build it discussed over the weekend and that the company is simply not going to push out a final release candidate until around its Worldwide Developer Conference in early June.

Leave a comment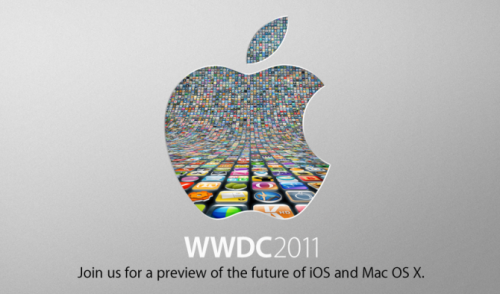 Apple has announced that the WWDC 2011 will be held on June 6-10 at the Moscone West Center in San Francisco. This year conference will be special because Apple is planning to introduce the next iOS version and preview Mac OS X Lion.
"At this year's conference we are going to unveil the future of iOS and Mac OS," said Philip Schiller, Apple's senior vice president of Worldwide Product Marketing. "If you are an iOS or Mac OS X software developer, this is the event that you do not want to miss."
The conference itself will be home to over 100 technical sessions and 1000 Apple engineers. Here are the specifics from Apple:

Leave a comment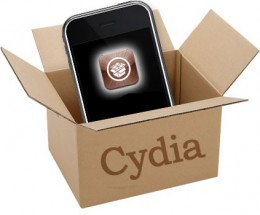 Cydia lead developer Jay Freeman released Cydia 1.1.1. You can update it in Cydia. It became much faster and more stable.
Features of new Cydia will include:
the ability to run and operate Activator, libstatusbar, and SimulatedKeyEvents while Cydia is running
an overall speed improvement, including the "Loading Changes" dialog
"much less" memory usage
a more advanced search mechanism with a new relevancy algorithm
better management of broken repositories
Here is a full changelog discussion from Saurik:

Leave a comment