News tagged 'Twitter'

Apple's iTunes AppStore has recently reached 25 Billion downloaded apps. Apple has an updated its all time most popular apps list for both iPhone and iPad. There are 4 categories - iPhone apps, iPad apps, Free and Paid.
This list varies from country to country. For example, US AppStore number one apps are: Angry Birds, Facebook, Pages and Angry Birds HD Free, while in Russia - WhatsApp Messenger, Facebook, Angry Birds Seasons HD and Skype iPad.
You can take a look at the list in iTunes (link) or below:

Leave a comment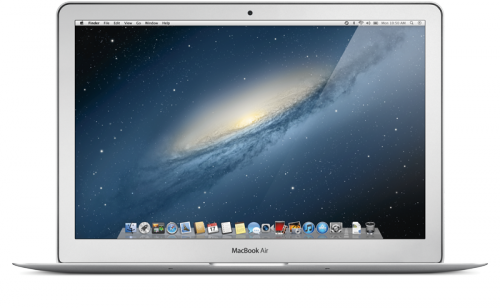 Just a few hours ago Apple has announced Mac OS X 10.8, dubbed "Mountain Lion," the next major release of its Mac operating system, set to launch on the Mac App Store this summer. Apple has boasted that Mountain Lion packs over 100 new features, including many brought from the iPad and iOS mobile operating system.
What's new
New features introduced with Mountain Lion include Messages, which replaces iChat, as well as Notes, Reminders and Game Center for the Mac, Notification Center, Share Sheets, Twitter integration, and AirPlay Mirroring. Mountain Lion will also be the first OS X release with iCloud. Apple also adds Gatekeeper, which helps keep users safe from malicious software by giving control over what applications are installed on a Mac.

Leave a comment


Swagg Security hacking group announced this week that they managed to hack Foxconn servers that expose usernames and passwords for clients and employees. Such information could be used to place fraudulent orders for companies like Apple and Microsoft.
Swagg Security alleged that it had bypassed Foxconn's firewall "almost flawlessly." Using several hacking techniques and a couple of days time, the hackers reportedly dumped "most of everything of significance," including usernames and passwords. According to the group, the leaked passwords "could allow individuals to make fraudulent orders under big companies like Microsoft, Apple, IBM, Intel, and Dell."

Leave a comment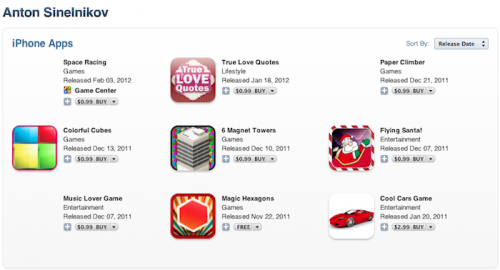 TechCrunch reports that Apple removed from the App Store a number of copycat applications such as Temple Run, Tiny Wings and Words with Friends that closely mimicked the titles of successful games after they provoked a public outcry from developers over the issue. The fraudulent apps were largely the work of developer Anton Sinelnikov.
Sinelnikov, however, is not alone in his efforts, as dozens of other applications from other developers have attempted to dishonestly capitalize on the successes of others. Numerous developers and users asked Apple to take down the offending apps. Keith Shepherd, the creator of Temple Run, noted on his account that an app like Temple Jump "taints the integrity of the App Store." After Apple pulled the app, Shepherd posted on Twitter that he was "thankful."

Leave a comment


Today European Commission announced the launch of an investigation to determine whether Samsung has violated EU antitrust laws in its legal agreements with competing companies. The European Commission will focus on patents that must be licensed on FRAND (fair, reasonable, and non-discriminatory) terms.

Leave a comment, read comments [2]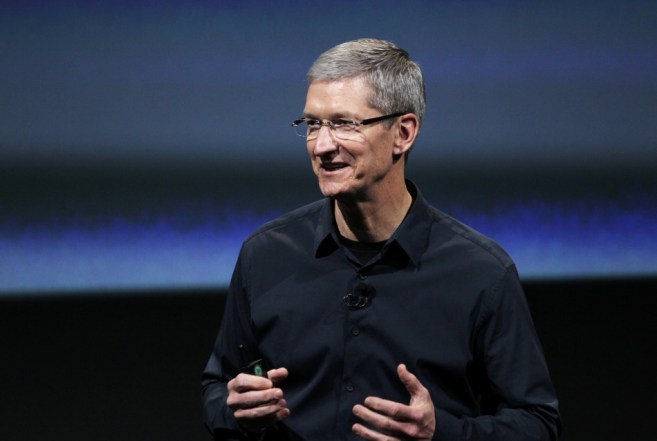 Among the various topics discussed by Tim Cook during yesterday's Town Hass session with Apple employees, he revealed some new perks for employees. Cook announced that company's employees would receive 250$ discounts on Mac purchases and $500 discounts on iPad purchases.

Leave a comment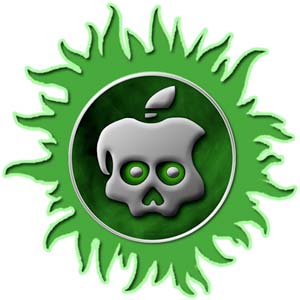 The Chronic Dev-Team has released an update to their Absinthe jailbreak utility for iPhone 4S and iPad 2. So users who failed to jailbreak can try with new version Absinthe 0.3. Chronic Dev-Team also released a version for Linux users.
@pimskeks announced the release over Twitter:
Linux version (x86/x86_64) of #Absinthe #A5 #jailbreak is done!

Also version 0.3 of #Absinthe #A5 #jailbreak is available for OSX and Windows. Nothing really new, so no need to re-apply

#Absinthe 0.3 only has some cosmetic changes, and a potential bug fix for win32 (only really few people seem affected)
You can download Absinthe for Windows, Mac OS X and Linux from here.
Here are our step-by-step tutorials:

Leave a comment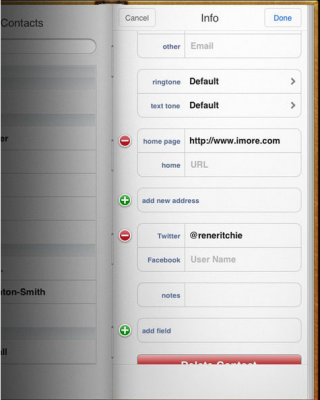 iMore dug through the recently released third beta of iOS 5.1 and found evidence showing that Apple could add a deeper iPhone and iPad integration with Facebook into a future operating system update. In one screenshot shown for the iOS Contacts application, there is an option to enter a person's Facebook user name right below their Twitter account. The same deeper integration was provided for Twitter that was one of the most-touted features of iOS 5, which was publicly released last October.
Deep integration with the social networking service allows users to quickly post Web links from Safari or pictures saved in the Photos application to Twitter. Presumably, future iOS integration with Facebook would offer similar functionality, making it easier for users to share information with their friends on the popular website.
The pre-release build of iOS 5.1 also reportedly includes references to new iPad models that are named in the code such as "J1AP" and "J2AP." The references corroborate with rumored code-names of "J1" and "J2" that were first reported last November, when it was said that Apple was secretly working on two new iPad models.

Leave a comment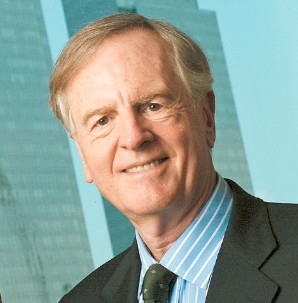 John Sculley, former vice-president and president of PepsiCo and CEO of Apple between 1983 and 1993, and a Silicon Valley investor nowadays, believes that Apple is the only company that would be able to change the first principles of the television experience. In an interview with BBC Sculley confessed that has not read Walter Isaacson's authorized biography of Apple's late cofounder and CEO, but admitted that the television industry is about to experience Apple's magic touch:
I think that Apple has revolutionized every other consumer industry, why not television? I think that televisions are unnecessarily complex. The irony is that as the pictures get better and the choice of content gets broader, that the complexity of the experience of using the television gets more and more complicated. So it seems exactly the sort of problem that if anyone is going to change the experience of what the first principles are, it is going to be Apple.
Rupert Murdoch confirms Sculley's words about Apple television, writing on Twitter this morning: "All talk is about coming Apple TV. Plenty of apprehension, no firm facts but eyes on their enormous cash pile".

Leave a comment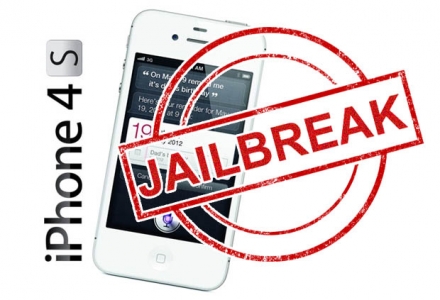 The 'dream team' of iPhone hackers has made more progress on the A5 jailbreak with planetbeing just announcing that they're out of Apple's sandbox.
And we're out of the sandbox with @saurik's invaluable help! (well, at least there's a PoC) Turning out more complex than X-Gold 618.
pod2g also mentioned progress in twitter:
@planetbeing escaped from the sandbox with the help of @saurik. Thanks to their awesome work, there should be nothing left blocking for the A5 jailbreak. Now it should be a matter of days. Still no precise ETA of course.

Leave a comment, read comments [22]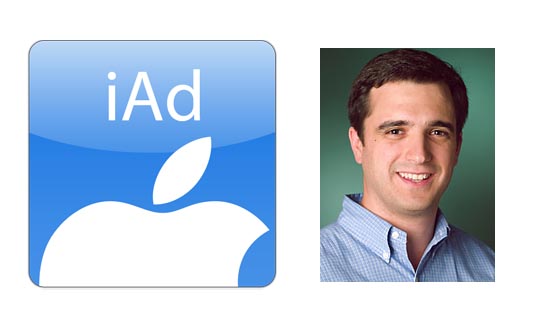 Bloomberg reports that Adobe executive Todd Teresi was hired by Apple to head up its mobile advertising unit iAd. Detailed information on the employment will be forthcoming.
Teresi has worked as VP of Media Solutions division in Adobe for the past nine months and previously worked in Yahoo, PriceWaterhouseCoopers and Quantcast.

Leave a comment


There have been many rumours about the iPad 3 which is expected to debut sometime in the beginning of 2012. DigiTimes is one of the main sources for these reports and now it claims that Apple is going to launch its next iPad at the Macworld|iWorld conference that will open on January 26th 2012.

Leave a comment

Untethered jailbreak for iOS 5.0.1 has already been released. While there is no reason not to update to iOS 5.0.1, there might be some users who would like to stay on iOS 5 and have untethered jailbreak there too.
Famous hacker Joshua Hill (nickname p0sixninja) has recently posted via twitter that an untethered jailbreak for iOS 5 will be released soon after testing.
@p0sixninja: 5.0 untether will be coming soon, we still have some testing and bugs to work out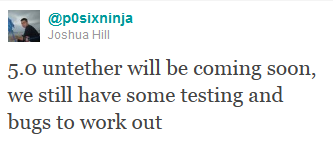 Leave a comment

In mid-August Evernote acquired Skitch and released it as as a free program on the Mac App Store. Yesterday the company fulfilled its promise to launch a version of the program for iOS. Skitch for iPad is now available, allowing users to annotate, take notes, edit existing images and more on your Apple tablet.

Leave a comment