News tagged 'алок'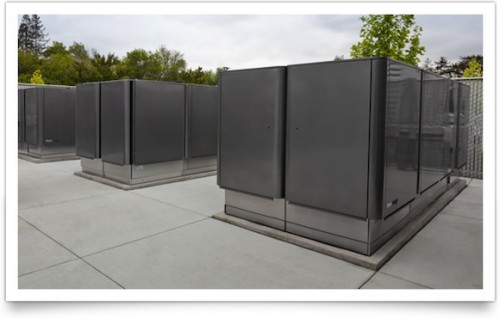 The Charlotte Observer reports that Apple is planning to double the size of its energy resources at its data center in Maiden, North Carolina to 10 megawatts.
"Fifty fuel cells adjacent to its $1 billion data center in Maiden are expected to be operating by January, Apple said in papers filed with the N.C. Utilities Commission. It will be fueled by "directed biogas" in which cleaned methane gas from a landfill is injected into a natural gas pipeline. [...]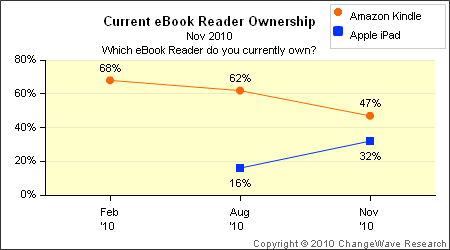 Yesterday ChangeWave released another study based on a survey of the owners of e-readers. There were 2,800 consumers that had been polled, and 47% of them told they have an Amazon Kindle, which appears to be continually losing its market share to Apple's iPad.
In terms of the market of e-readers iPad now has a 32% share, according to the survey, conducted in November. This is twice as more in comparison to August. For the same period Kindle's share fell down from 62% in August to 47% in November.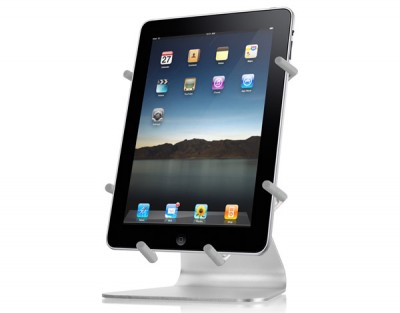 Thermaltake Technology company has a devision called LUXA2, which has many interesting luxury products. The recent interesting one is LUXA2 H4 - the Apple iPad solid-aluminum holder.
The holder looks really nice and is well manufactured. The main material is aluminum. The design is great and reminds us different Apple products, especially the iMac stand. LUXA2 H4 holds the iPad with two short and two V-shaped arms, that have six rubber nubs. The nubs tightly grip the iPad without scratching it. The user is able to adjust the width of the stand by pulling these arms. That's why LUXA2 H4 fits not only for the iPad, but can hold Amazon Kindle and many other eBook readers and tablets. This gives the H4 additional advantage over other stands on the market.
The holder also allows 360-degree rotation and 300-degree vertical adjustment. So there is no problem putting iPad at the right angle. Setting the iPad in portrait or landscape orientation is really very easy. However be careful rotating the device, since there are no V-shaped arms on the top.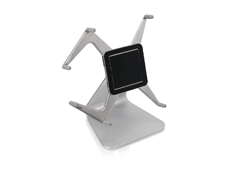 LUXA2 H4 is great for internet browsing, ebook reading, watching movies and even gaming. It looks especially good when used with iPad and external keyboard.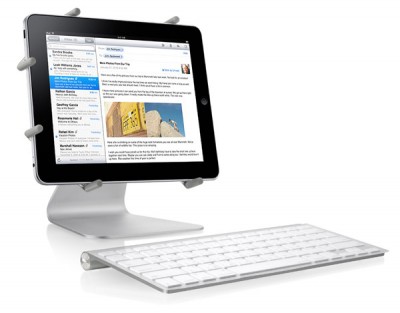 Specifications:
Height: 206mm (8.12 inches)
Width: 151mm (5.98 inches)
Depth: 138mm (5.44 inches)
Weight: 446g / 0.98 lbs.
Adjustable Angle: 360° (Rotated) and 300°(Vertical)
LUXA2 H4 costs around $59.99. The list of distributors is available here.
Here are more photos and video with LUXA2 H4: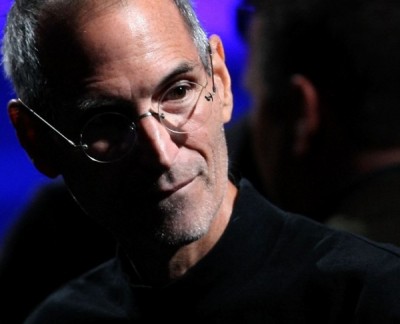 Steve Jobs's attempts to convince publishers to provide the content in a useful digital form were not that successful and the negotiations initiated in February have "stumbled."
Some newsmakers report of "friendly" talks, but speak of Apple's business model as a crucial change for the publishing business. They aware of the impact iTunes had had on the songs industry in 2003. Then the number of downloads of single songs from Apple influenced the resulting purchases of the singers' albums.
Apple has been conquering the e-reader market long before the new iPad was on offer. So that is not a surprise that such companies as Amazon, which previously dominated the market have to increase their prices in response to the iPad's outbreak.

Firmware version 2.1. It is supposed to display "more accurate" signal strength. Well... it appears that "more accurate" may mean "unreasonably generous."
Users can actually see the results of iPhones dB meter. Dial *3001#12345#* then press "Call". A dB reading below 50 generally indicates good strength.
Here's what I've got:
iPhone Atlas reader Michael did some testing, and found that widely varying dB readings resulted in the same five-bar signal indicator on his iPhone. He writes: