Teardown Of New MacBook Air Reveals Tweaked Design Of SSD Connector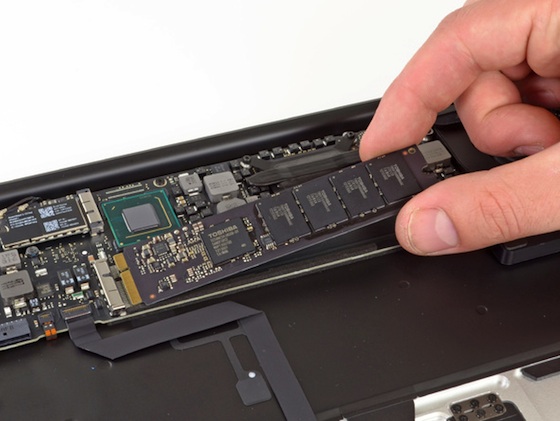 Toshiba SSD in new MacBook Air
Teardown experts from iFixit are now taking apart the refreshed 13-inch MacBook Air that was released yesterday, and while the notebook seems to receive only a minor update, there are certainly some changes that are worth mentioning.
The most notable change thus far is related to the solid-state drive. Apple has changed the connector design on the integrated flash storage in the MacBook Air, making current upgrade and replacement modules produced by third parties incompatible with the new models.
The same difference was noted by Other World Computing, which said that they are actively working on new Aura Pro Express solid-state drive compatible with the latest MacBook Air.
At WWDC Apple announced that it included new 500 MBps SSDs in the new MacBook Air, and the new connector is likely designed to accommodate the faster data transfer speeds.
The latest models include thinner Magsafe 2 connector that was developed as part of Apple's continuous move to reduce the thickness of its notebooks. The new models obviously also include 1600 MHz RAM and Intel's new Ivy Bridge processors, as well as support for USB 3.0, however this updates have yielded little changes to the notebook's internal layout.

Leave a comment