The UK Court ordered Apple to pay legal fees in favor of Samsung.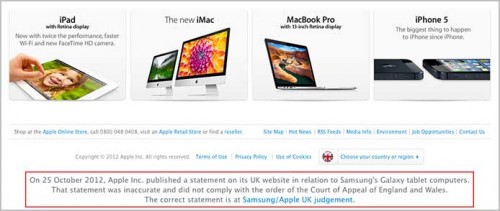 On Friday, the British Court ruled that Apple must pay legal fees to Samsung, after it was found that the company had not complied with the requirements of a notice on its Web site, which said that the South Korean company did not use the design of the iPad. Groklaw reported that the England and Wales Court of Appeal found the originals, posted on the Apple's website that contain inaccuracies and "false innuendo," requiring the payment of legal expenses on the basis of Samsung "indemnity "above the standard threshold.
In July, British judge, Colin Birss decided that Apple should put a notice on the home page of its website, with the announcement that Samsung did not copy the design of the iPad. The post was published, however, it was in the form of a reference to the statement in which Apple has made some changes.
The Court acknowledged that the added content has been false and distorted the essence of the decisions, especially referring to a quote by judge Birss, who heard the distinctive character of Apple products, saying it was torn out of context and "foster[ed] the false notion that the case was about the iPad."
Also in dispute was a reference to judgments through consideration of patents from around the world, including a lawsuit Apple vs. Samsung where Apple recieved $ 1.2 billion. The Court said that such inserts were "calculated to produce huge confusion" and that the notice contains "further false innuendo that the UK court's decision is at odds with decisions in other countries whereas that is simply not true."
In November, Apple was ordered to correct the notification under regulation. The decision of the Court was intended to illustrate the disapproval of Apple's behavior , especially in relation to the original order.
In conclusion, the author of the verdict, Sir Robin Jacob, offered the following comment: "I hope that the lack of honesty, resulted in this incident, a completely unique track record of Apple."

Leave a comment